Not everything is on Wikipedia these days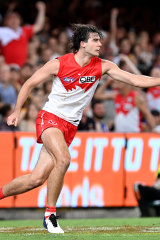 With all the hype that surrounds draft picks these days you'd think they would automatically find themselves with a Wikipedia page soon after being drafted.
Not so. It wasn't until 2.16am on Sunday, just hours after he kicked three goals on debut for Sydney, that No.4 draft pick Logan McDonald became the first top 10 draft pick from the 2020 national draft to have a Wikipedia page created.
He is one of just nine players with a Wikipedia page after round one, with Rising Star nominee Errol Gulden among them.
Last season it was only No.1 pick Matt Rowell and Fremantle's three top-10 picks Hayden Young, Caleb Serong and Liam Henry that had a Wikipedia page created on draft night, with most only getting a page when the season started.
Nomination for McNamara
Telling your uncle you have a Rising Star nomination is something that would normally give you a thrill.
But Eliza McNamara, who was nominated for the AFLW Rising Star award last week after another strong performance with Melbourne's AFLW team, might have just passed the news on to her uncle Tony with a little reticence.
After all Tony McNamara was nominated for an Academy Award in 2018 for best original screenplay after he wrote The Favourite, only to be pipped at the post by the writers of the film Green Book.
Expect a good speech from Eliza if she wins the Rising Star award at season's end!
Overlooked Pioneers no more
Finally, seven years after The Australian Football Hall of Fame created The Pioneers as a Hall of Fame category, the seven men inducted as such in 2014 and 2017 respectively have found their way into the pages of the AFL Media Guide.
For three years John Acraman, Richard Twopeny and Charles Kingston have been absent from the football bible's pages, as have Jeffrey Bryant, William Hammersley, Thomas Smith and James Thompson, who entered the Hall of Fame in 2014, recognition for the seminal role they each played in the game.
We know at Snap Shot such oversights can happen and it was quickly fixed when Patrick Keane became aware they were missing from the Hall of Fame pages and alerted the ever-diligent editor Michael Lovett.
Winmar born for the big stage
Snap Shot loves music and football so the photos of St Kilda great Nicky Winmar on stage with Melbourne institution Painters and Dockers could not pass by without a mention.
Of course, when your middle name is Elvis, as Winmar's is, then you are born for the stage so we're disappointed we didn't hear him belting out Die Yuppie Die on Saturday night.
Peter Ryan is a sports reporter with The Age covering AFL, horse racing and other sports.