Loading
The total time – from when a patient arrives at a clinic to when they leave – for this immunisation is likely to be 25 minutes or more in most cases. However, the government has revealed their remuneration proposal for COVID-19 vaccination in general practices in phase 1b is based on a very brief consultation time, typically two or three minutes.
So far the government has fixed its funding for phase 1b to an outcome-based payment (only when attending for the jab), and made zero contribution to substantial upfront costs to clinics such as extra fridges, computers, consumables (including needles, syringes, alcohol wipes, labels) and HR-associated costs such as training and hiring new staff. The supply of vaccines has also been drastically impacted by expanding the original proposal of 1000 clinics to 4600 clinics, meaning that logistics are substantially more complex and many clinics are receiving economically unviable quantities of vaccines – some as few as 50 doses a week.
As well as a seemingly arbitrary distribution of vaccine supply to GP clinics, the government told people to just "call their clinic" to book a time to receive the vaccine. This was ridiculous advice and no one benefited from reception phones being swamped by disgruntled patients who could not yet be allocated vaccines.
Meanwhile, the initial stage of the program was not subject to the same pay-on-delivery model as phase 1b. In fact, no one will tell us how much is being paid per jab in phase 1a. Based on reports of staff numbers and clinical utilisation from attendees, I suspect it was much more than for phase 1b.
We will shortly move into a period of experimenting with processes and optimisation. The two biggest issues with the pay-per-jab approach are yield and show-up rate, which are highly dependent on communications and tech.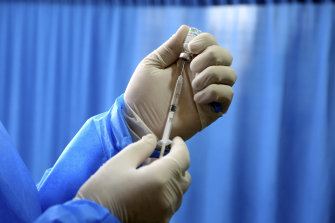 It's like running an airline, our job is to improve the number of people that fill the seats (yield) and make sure all of those who have booked seats show up. At the beginning of the session all of our overheads are fixed (staffing mostly), so if we fail to fill the session the financial risk is on the clinic and none is borne by the government.
Throw into this already complex mix the fact that the flu vaccine is also now available and the recommendation is for this to also delivered now. However, please note the current recommendation is for a 14-day gap between any other vaccine and the COVID-19 vaccine.
Loading
Our goal in general practice is to maintain our usual standards of service for regular healthcare as the vaccine is rolled out. Help us expand our capacity by being ready to come in when it's your turn and being part of this historical moment as we work to crush COVID-19 together.
Dr Todd Cameron is a GP in Melbourne's west.