North Melbourne defender Robbie Tarrant has had surgery to remove a lump from his kidney and will miss the first half of the season.
The backman had known of the "mass" on his kidney for some time and had initially planned to put off surgery until the end of the year but then suffered a groin injury that was going to keep him out for at least a month and decided to have the surgery immediately.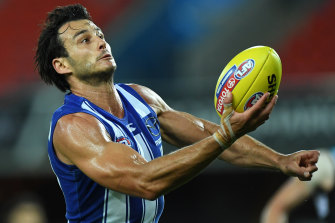 He had an operation on Tuesday night to remove the lump which will now be analysed by pathologists.
It is unknown when or how Tarrant learned he had the growth on his kidney.
The club is uncertain of the time frame for his recovery, observing that NBA player Caris Levert had a similar procedure and returned to play after eight weeks.
"This is something I've been aware of and had elected to address now rather than wait for the end of the season to have it removed," Tarrant said.
"I'm truly grateful to my family and the club for their support and love they've shown. I'd also like to thank the medical staff and the specialist for the care and guidance they've provided me.
"I'm looking forward to getting stuck into my rehab program and can't wait to get back out there with the boys later in the season."
North's general manager of football, Brady Rawlings, said the club will allow Tarrant as much time as he needs to recover.