The federal budget is $23 billion in front of expectations due to strong consumer spending, high iron ore prices and lower unemployment but is still on track for the largest deficit on record.
Figures to be released on Friday by Finance Minister Simon Birmingham show a budget shortfall of $134.6 billion for the eight months to the end of February. At the mid-year budget update, the deficit to the end of February was forecast to be $157.7 billion on its way to a full-year deficit of $197.7 billion.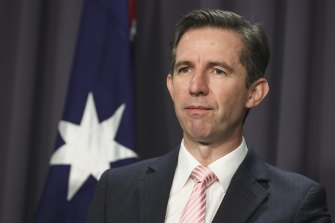 Through February, the budget deficit increased by only $700 million after rising by almost $18 billion in January.
The improvement is being driven by factors tied directly to the stronger economy.
Loading
Personal tax collections are $2.3 billion ahead of forecasts for this point of the budget year while company tax – driven by stronger mining profits – is $2.1 billion in front of forecasts. Taxes on superannuation, which for the full year were forecast to reach $8.7 billion, have already raised $8 billion.
Consumers have also done their part, with indirect taxes well ahead of forecasts. The biggest jump has been in GST, which flows to the states, which is $5.9 billion ahead of expectations so far this financial year.
The wine equalisation tax, luxury car tax, excise and customs duties are all well ahead of forecasts due to strong domestic consumption.
On the spending side of the budget, the government is also enjoying better numbers.