If Morrison does not fix this he is finished. That is one view within the ministerial wing over the scale of the backlash from women who are turning away from the Liberals and Nationals over what they see in Canberra.
This is worse than his holiday in Hawaii during the bushfires at the end of 2019 because that mistake could be repaired with money, the Army Reserves and a strong response to the pandemic soon afterwards.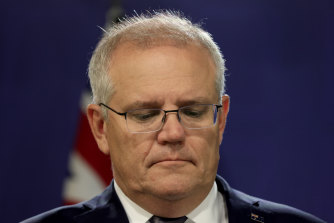 This is about a repeated struggle to get the tone and policy right on a lasting problem. It is almost six weeks since Brittany Higgins went public with her allegation of rape in Parliament House, yet the government is still stumbling in its search for a convincing answer about sexual harassment, assault and the broader issue of fairness for women.
The pressure was palpable in Morrison's press conference on Tuesday, when he began with contrition and a reminder of the women who are central to his life – heartfelt comments, with real meaning about why he wanted change – but then veered into frustration, anger and brush with self-pity. His glass jaw was never more brittle.
So the reset turned into a repeat. Morrison apologised for turning on News Corp but his bigger problem was the inertia that followed his cathartic moment. He promised action, and then nothing happened.
How long will voters wait? Morrison condemned the alleged rape of Higgins but he also promised a review into who knew what inside his office. That is now paused. He responded to the allegation of rape against Christian Porter by seeking legal advice on the Attorney-General's position. A decision is still pending. Morrison answered calls for change on sexual assault by promising action on a report, Respect@Work, which his government has had for a full year.
The government looks passive. It bides it time. It considers. Yes, it sacked the man who filmed his solo sex act, but it did not seize his phone or chase down others involved. It is waiting, instead, for any accomplices to step forward.
Symbols matter, too. Morrison chose not to speak to last week's rally for women. Perhaps the protesters would have shouted him down, anyway. That means he must find another way to show he is listening. He is planning a summit to discuss the next round of funding to counter violence against women. That gathering cannot come soon enough.
A cabinet reshuffle, likely within days, is only the start of a wider response. Liberal MPs want a series of measures including the response to Respect@Work, changes in Parliament House, the summit and greater spending to stop violence.
It is hard to see the Liberals embracing quotas, given the resistance at the grass roots of the party, but the government will only survive at the next election if it finds women to contest the marginal seats it wants to win from Labor.
Loading
Morrison's last reshuffle, just before Christmas, was a missed opportunity because he did not promote enough of the Liberals who need to be on the first rung of the ministry, ready for bigger jobs. He should have done it then; he has more reason to do it now.
The best candidate to replace Porter as Attorney-General is Paul Fletcher, the Communications Minister, even if all the speculation is about Employment Minister Michaelia Cash. The obvious candidate to move up is Jane Hume, the Minister for Superannuation, who has the profile of a cabinet minister without the formal status.
While it is logical to move Peter Dutton to Home Affairs to Defence in order to replace Linda Reynolds, this only opens another gap. Stuart Robert is a likely choice. Keeping Porter and Reynolds in cabinet could avoid making enemies, even if it prevents promotions that could give the government a stronger team.
But a reshuffle is not a reset. Morrison will only recover if he has an answer for women that is compelling in both its message and its funding.
A good starting point would be to listen to the anger of Karen Andrews and other women. Maybe it is powerful enough to save the government.
David Crowe is chief political correspondent.
David Crowe is chief political correspondent for The Sydney Morning Herald and The Age.