The contentious position of National Wind Farm Commissioner will be overhauled to focus on the multibillion-dollar rollout of new major energy transmission projects across the eastern states.
Early work to modernise Australia's outdated energy grid has begun in recent months with transmission projects including Marinus Link – to connect the mainland with Tasmania – Project EnergyConnect, HumeLink and the Western Victoria Transmission Network Project.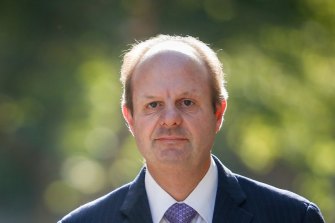 The role, which will continue to be held by the inaugural appointee, Andrew Dyer, was originally designed to report to the government on "the impact on the environment and human health of audible noise … and infrasound from wind turbines" and later expanded to cover complaints over solar farms and energy storage.
In the renamed position of Australian Energy Infrastructure Commissioner, Mr Dyer will also oversee complaints and community concerns about major new transmission projects.
Earlier this month, new route options for HumeLink, the essential transmission to support the Snowy 2.0 hydro power scheme, were released after the local council, Rural Fire Service and community groups raised concerns it could impact the expansion and operation of Tumut Airport, especially during bushfire season.
Loading
Federal Energy and Emissions Reduction Minister Angus Taylor said the government was committed to ensuring community concerns about transmission projects were acknowledged and addressed throughout the design, planning, construction and operational phases of deployment.
"Transmission investment is crucial to the security and affordability of our grid," Mr Taylor said. "As these critically important transmission projects take shape, we want to ensure that any concerns community members have are heard and resolved in the appropriate way, and the commissioner's expanded role will facilitate this."
The Abbott government established the position in 2015 to win over an eclectic group of crossbench senators, including the late John Madigan, in return for their backing for the government's changes to the renewable energy target. It was reviewed in 2018 and determined it should be extended for another three years.