That's all I have for tonight everyone. That was a dramatic win for the Cats while the Lions have every right to feel hard done by.
Thanks for following along once again and please join us again tomorrow afternoon for our AFL Saturday live blog!
Until then, bye for now!
Real Footy newsletter
Keep up to date with the best AFL coverage in the country. Sign up to receive our free newsletter on Mondays and Fridays
Chris Fagan post game
What did you think of the non-free-kick call in the final seconds?
Never comment on umpiring decisions. I haven't in the four years I've coached. I don't think it's constructive.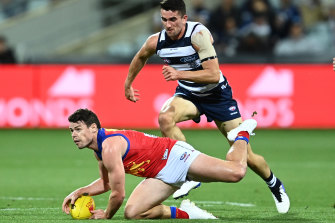 Did you miss the chances or was it just that Geelong held you off I think we missed chances throughout the game?
I thought we played pretty well in the first half but kicked inaccurately. If you look back through the game, you will see opportunities that we had to score and we didn't take them and we end up with four more shots than Geelong, so it wasn't just at the end. It was at different phases through the game, I thought.
The COVID situation is a big talking point. Did that affect the team at all?
No, we didn't talk about it. We just take our advice from the AFL and the Queensland government and do what we're told, I don't think it affected the way we played. I'm not sure if the players knew of it, but it certainly wasn't a topic of conversation between myself and the players before the game.
Could you stay here for Thursday night?
We have not received any information from the AFL. As far as I know, we're flying back tomorrow, but that could change, as we know, life changes pretty quickly these days. But I have no idea about that. We'll just be ready to do whatever we have to do.
Was there a moment pre-game where you thought perhaps you weren't going to be able to play tonight?
I wasn't sure. I thought there was a chance it could be called off. I'm glad it wasn't. It was one of the better games of Aussie Rules football you'll ever see, but I thought that was a possibility, yes.
The Blicavs non-free kick, what was your opinion?
"I haven't had a good look at that, Tom. I will reserve my opinion on that one until I have had a good look at it. I got caught up in the emotion right towards the end.
It is a hard game to umpire, the prior opportunity one tonight, that is a split-second call for Pies. And one of the hardest ones to judge. Zach Tuohy had one in the boundary line where he was tackled instantaneously and the ball fell out and it was holding the ball. Anyway, I have said too much.
What I would like you to take away is that I am a big subscriber to the idea that the game is very hard to umpire."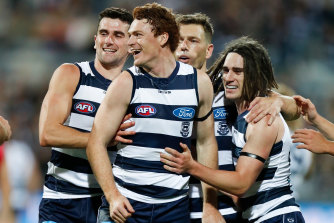 Isaac Smith kicks him at when in his second game for the club, you must be pretty pleased to have him.
"He and Shaun Higgins have been great additions. We have got some quality cattle on the sideline at the moment, so it's important for us that the guys that are out there stand up. And they have really helped us.
"Every time we have brought new players in, it takes a while to build cohesion with the teammates.
"But they are smart players so they picked it up pretty quickly. And looking forward to getting them altogether.
Why did you put Mark O'Connor on Lachie Neale and give him the job for the game?
"Probably, because we hold Lachie Neale in such a regard, that would be the main reason. We thought for a while that mark has the capabilities of playing those roles for us.
"A week where we had a little bit of a thin midfield group, especially the inside, with Menegola going out, Dangerfield going out and Duncan not being available in one or two others as well and one or two others as well.
"I thought Mark was good and Charlie Constable as well."
You are fired up at quarter time and had a discussion with the Lions players, can you elaborate on what led to that and what you said?
"I was walking onto the ground and Lachie Neale just said to me something, I couldn't understand exactly what he said, but something about Gary Rohan. And I said I'm happy to have the conversation with you if you like, I have seen the vision, and I am comfortable with it.
"I suspect he didn't hear all of that. That is all that was said. I think a few of the Brisbane players – they were not paying me compliments but I didn't say anything after that."
What was your opinion of the Gary Rohan and Neale incident?
I think Neale strikes Gary on the chest and then Gary struck him on the chest.
So Neale started it?
He did, the vision is clear, I am not certainly not saying he did the wrong thing, that's footy, but I have had a pretty good look at what Gary did and I'm comfortable with it.
This is the contentious decision which denied the Lions a chance for the win.
For what it is worth, Mark Blicavs told ABC post game he didn't think he had prior opportunity to dispose of the ball.
A right foot snap from recruit Isaac Smith with five minutes to go and a lucky umpiring decision in the final minute that went Mark Blicavs' way when he was tackled in the goalsquare saw Geelong record a dramatic win over a brave Brisbane Lions at GMHBA Stadium on Friday night.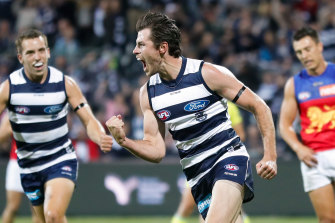 The Cats lost the lead after the Lions kicked the first four goals of the final quarter but Smith – in just his second game for Geelong – managed to throw the ball on the boot after a stoppage to give his team the lead.
They then held on as the Lions scored two behinds with the final behind coming after they rushed the ball through when Zac Bailey tackled Blicavs as he tried to get rid of the ball. He was very fortunate not to be penalised for incorrect disposal.
Can you explain to us what happened at quarter time? Chris Scott had a bit to say to the Brisbane boys:
I actually don't know if he did say that much, but there was a bit of a steer-off, and to be honest, it is just a bit of theatre and good for the show, I reckon.
How good was that to get over the line at the end?
We are very happy down here, but very lucky at the same time, as there are many times in the game that we could have been in a bit of trouble there. To our guys, especially our new guys, I thought they were fantastic late in the game.
Chris Scott wasn't shy last week saying he wasn't overly pleased with the method and the way you are moving the ball forward in attack, did you see an improvement in that area?
Yes, it was really pleasing for most of the game. But we understand we are not going to get all the game on our terms, and in the last quarter we probably could have been better.
I spoke to a couple of the boys down on the ground about Evans. How exciting is it for the footy club to see such a young talent coming through?
It was good for him to hit is corporate. He has been bashing away and was emergency a number of times last year, so it was good for him to get his go tonight and I'm sure you will see him or during the year.
Adherence to AFL protocols enabled Geelong and the Brisbane Lions to play on Friday night after the Victorian Government declared Brisbane and the Moreton Bay region a hotspot just before the Lions ran on to GMHBA Stadium to take on the Cats.
It meant the Victorian government was able to grant Lions players, coaches and officials an exemption to the declaration that all people who had travelled from the affected regions to Victoria since March 12 had to isolate immediately and be tested for COVID.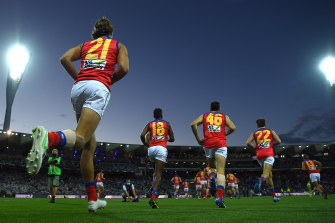 However Channel 7 commentators Luke Hodge and Wayne Carey were among those who left the match as a result of the Victorian government's decision, along with supporters asked to leave the ground over the public address system at quarter-time.
Geelong has its first win of 2021 but Brisbane pushed them right to the brink.
Isaac Smith kicked the match-winner for the Cats with about 90 seconds to play but the controversy will centre around a last second decision from the umpires to not award a holding the ball free kick against Geelong defender Mark Blicavs who was tackled by Zac Bailey and dropped the ball.
Channel Seven commentator Brian Taylor says it was a clear free kick.
The Lions would have had a close shot for goal with just seconds to play.
Smith told Channel Seven he was happy to win but didn't want the Cats having close wins like this each week.
"We both came off terrible losses last week, so it was nice to get the win, but as you said, the Lions were coming and we had to find something in the end and were able to save it," Smith said.
"You don't want that every week. It was pretty awesome to be down here in front of the Geelong crowd, something new, a lot of fun."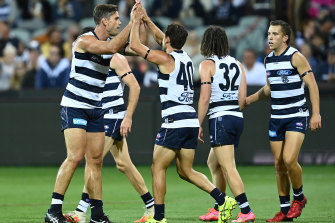 Daniher booted it long to the goal-square and Blicavs came up with the ball.
He was tackled and didn't get a handball away but the umpire missed it and allowed a rushed behind to go through.
Geelong was gritty but the Lions will feel robbed.