For most Victorians, face masks were a mild inconvenience in the fight against COVID-19. But for retail worker Mia Belic, they were a necessity.
As the 18-year-old removed her mask at 6pm on Friday when the government restrictions were eased, it wasn't just a breath of fresh air she was met with, but the feeling of freedom that comes with the gradual return to normalcy in the wake of COVID-19.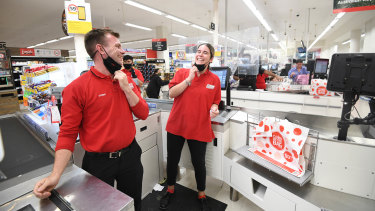 "I feel like everyone's going to be a lot more free, in a sense, like we don't have to wear a mask but if we choose to we can, to keep ourselves safe," Mia said.
"I'm just gonna breathe that fresh air."
Wearing masks for so long has a physical impact, too, Mia said.
"I noticed that would get really red. And the next day, you know, I'd be breaking out."
As well as being forced to wear a mask for her job at Coles in Port Melbourne, she had a sibling that was immuno-compromised throughout the pandemic. Her parents fretted about her returning to work, and insisted she be diligent in keeping her mask on throughout the crisis.
Loading