WESTERN BULLDOGS 4.0 5.0 5.3 7.3 (45)
RICHMOND 1.0 2.1 4.2 5.2 (32)
GOALS: Western Bulldogs: Lochland, McLeod (2), Morris-Dalton, Huntington, Lamb, Toogood. Richmond: Stahl, Brennan (3), Wakefield
BEST: Western Bulldogs: McLeod, Lochland, Lamb, Blackburn, Rennie, Moody, Toogood. Richmond: Brennan, Stahl, McKenzie, Frederick, Seymour, Miller, Dempsey
The Western Bulldogs have ended their season with a 13-point win over Richmond at Whitten Oval on Friday night, but couldn't make up the percentage deficit needed to launch a finals campaign.
The game was the first between the two teams for AFLW premiership points, having only clashed in practice matches.
The Bulldogs sat in eighth spot on the ladder after a 56-point loss to Adelaide last round, and whilst mathematically there was a slim chance for a finals appearance, the young team needed a near miracle.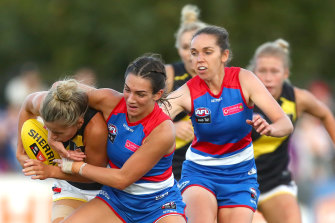 The Tigers weren't a chance for finals but after three wins following a winless season last year, they were hungry for another victory to wrap up their season.
The Bulldogs were kicking with the breeze and Brooke Lochland got them on the board early with her first for the season. In the same minute, Bulldog Kirsten McLeod booted her first of two for the quarter.
Despite leading the clearance count and with 70 per cent kicking efficiency, the Tigers managed just one major from Tayla Stahl. Bulldogs key forward Nell Morris-Dalton slotted her first AFLW goal to give them an 18-point advantage at the first break.
Skipper Katie Brennan opened the Tigers' second term with a goal, but Bulldog Izzy Huntington responded for the Dogs before half-time.