Billionaire James Packer's Crown Resorts was put in play this week, when the world's biggest private equity firm Blackstone made a bid for the embattled gambling company.
And while Blackstone's cash bid at $11.85 a share, valuing the company at $8 billion, was widely viewed as opportunistic, it focused attention on the value that could be unlocked if Crown was broken up.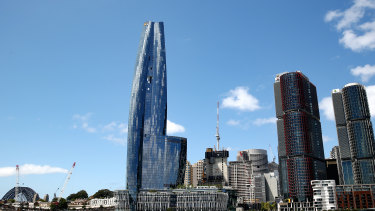 If Crown's assets — its casinos in Melbourne, Sydney and Perth — were pulled apart and auctioned off to the highest bidders, then the value for its potential suitors lies not just in its $5 billion in hotel and resort assets but potentially its gaming licences. Typically a casino's gaming licences and property assets are linked but they can be sold separately.
On its balance sheet Crown values those licences at $1 billion but that was pre-pandemic and also before the damning findings of the NSW Bergin inquiry. The inquiry, which released its report last month, found Crown's Melbourne and Perth casinos, ​ had been infiltrated by organised crime groups and used to launder money, confirming an investigation by The Age and The Sydney Morning Herald journalist Nick McKenzie.
The Bergin inquiry found Crown was unfit to operate its Sydney licence, and its casino floors that were due to open this year, remain closed. Royal Commissions reviewing Crown's licences in Victoria and Western Australia are now underway.
Those developments have raised questions about the value of Crown's licences and explain the low-ball bid from Blackstone. The value of Crown's licences have also been hit by the recommendation in the Bergin report to ban junket operators, some of which were found to have links to organised crime. Crown Sydney's business model, in particular, was heavily dependent on revenues from international tourism and junket operators who bring in high-rollers.
Crown's Sydney licence does not permit it to have poker machines, unlike its rival Star Entertainment, which holds the other Sydney casino licence. There has been speculation that Star, the smaller of the two casino companies, could be a possible bidder for Crown.
This is possible but viewed in the market as unlikely. A more digestible deal for Star, if it were interested, could be a bid for Crown's Sydney assets.
Star is in the box seat to make the most out of Crown Sydney in the event of a break-up. It is a known quantity to NSW's gaming ​regulator, but more importantly has a licence to operate poker machines in the city. What that means is poker machines could potentially be introduced to Crown Sydney, making up some of the lost revenue from the junket operator ban.