The Liberal Party has taken out a gag order against one of its most senior female executives, federal vice-president Teena McQueen, as the election cycle enters its critical phase.
But the firebrand conservative is refusing to stay silent, continuing to appear on television and telling The Sun-Herald and The Age: "Do you think anyone could gag me?"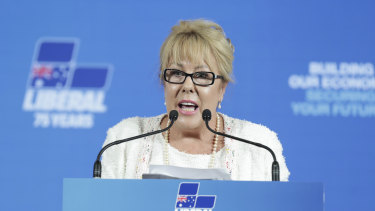 The Liberal federal executive passed a motion last Thursday declaring that "until the date of the next federal election" only its federal president John Olsen and federal director Andrew Hirst may make public statements, written or oral, about federal party matters.
Exceptions were made for certain specialists; for example the head of the women's committee may comment on women's committee issues, and the head of the Young Liberals can comment on matters pertaining to that group.
While the gag order applies to other executive members equally, several Liberals with knowledge of the motion say it was directed primarily at Ms McQueen, whose public appearances have caused angst within the party.
"She's been constantly warned about her appearances by various party officials, including the last two presidents," one Liberal source said.
Less than two months before the 2019 election, Ms McQueen delivered what was widely regarded as a "trainwreck" performance on the ABC's high-profile Q&A program.
It included fond recollections of then US president Donald Trump at a Miss Universe pageant in 2006 and baseless accusations that then Greens leader Richard Di Natale was "inciting violence" – a comment that was quickly dismissed by then host Tony Jones as "probably defamatory".
In the aftermath of the program, the Herald reported that NSW Liberal Women's Council president Mary-Lou Jervis complained to party bosses that Ms McQueen did not represent the vast majority of Liberals and was not authorised to speak on their behalf.