Detective Sergeant Sol Solomon, from the homicide squad, said ballistics experts were working to determine how many guns were used in the attack with at least two bullet holes clearly visible on the car.
He said the victim was known to police, but very little else was known about him.
"It's a combination of a very nasty road collision which ended up in what appears to be a fatal shooting," he said.
"From what we've been able to glean so far from the very sketchy information we've got … is it's shaping up to be a targeted attack.
Sergeant Solomon said Major Collision Investigation Unit specialists were assisting in the investigation and helping to reconstruct the crash.
His message to those responsible: "We will identify you."
"These are people that have just been involved in the taking of someone's life with a firearm," Sergeant Solomon said.
"It's in everybody's interest including their own to be arrested and taken off the streets and the firearm to be seized."
"It would be advisable just to hand yourself in now."
Nurse Sheryl Vale lives a few houses away from the scene of the shooting and was getting ready for work when she said she heard three gunshots ring out.
"We get a lot of different noises in this area all the time but after I heard the second and third bangs I knew they were gunshots," she said.
"I saw the two cars go flying past my house and heard yelling before a third, final gunshot. Then the sirens started."
Ms Vale estimates the two cars were travelling about 100km/h down her residential street before reaching the freeway.
"If I had of left home a couple of minutes earlier I potentially could've been caught up in that mess – it is rather scary."
Mother Lorraine, who did not want her surname used, said she was driving through the Corio and Norlane areas to collect her son from work about 6am when she saw a speeding car. Minutes later, she said, police and paramedics whizzed past.
When she returned to the area soon after she said the whole highway was blocked off.
"I saw a large truck and an large orange tarp. It wasn't until later at home I found out someone was shot and died at the scene," she said.
"I would have been at the lights around 6am. Way too close of a call."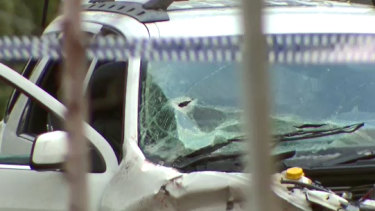 A State Emergency Services tent was set up for much of the day, next to a damaged white vehicle, to preserve the crime scene.
A bullet hole can be seen in the front windscreen.
An Ambulance Victoria spokeswoman confirmed paramedics took two men aged in their 20s to Geelong hospital with minor injuries.
Traffic diversions are in place and motorists are being urged to use the Geelong Ring Road instead.
It's not the first time shots have been fired across the busy stretch of road.
In 2014, a man was filling his truck with fuel at the nearby North Geelong when a second group opened fire. As the victim fled the scene in a car, the group followed, firing a sawn-off .22 rifle across traffic.
One of the bullets was later found lodged in the Ford Motor Company building across the dual lane highway.
Anyone with information on the latest shooting, including dashcam footage, is urged to contact Crime Stoppers on 1800 333 000.
Start your day informed
Our Morning Edition newsletter is a curated guide to the most important and interesting stories, analysis and insights. Sign up here.
Erin covers crime for The Age. Most recently she was a police reporter at the Geelong Advertiser.