Poultry processor Inghams has announced the sudden departure of its chief executive Jim Leighton, who has left his role effective immediately and has returned to the United States due to family reasons.
The $1.34 billion company, which sells chicken into supermarkets and a number of major fast-food chains, has appointed non-executive director Andrew Reeves as chief executive officer.
Chairman Peter Bush told shareholders that Mr Leighton was a "good leaver", with the outgoing CEO to remain with the company until the end of the financial year to facilitate a handover.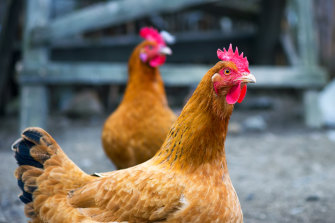 "Jim leaves as a good leaver and with our very best wishes. He is returning to the United States for personal reasons," Mr Bush said.
"The board and I thank Jim and his family for managing the many challenges they have faced since Jim's arrival over two years ago. Jim and his team have built a solid foundation for growth. We wish Jim and his family all the best."
Mr Reeves has formerly been the chief executive officer of major food manufacturer George Weston Foods and has also held the position of managing director at Lion Dairy and Drinks.
Mr Bush assured investors it would be a smooth transition between the two.
Inghams shares were last trading at $3.60 and have gained 15.4 per cent in 2021.
China's ministry of commerce (MOFCOM) has finalised its anti-dumping investigation into Australian wine, with winemaking giant Treasury Wine Estates telling investors this morning the outcome is largely as expected.
Tariffs of 175.6 per cent will be applied to all of TWE's Australian wine in containers of two litres or less imported into China.
The tariffs will be enforced for at least the next five years.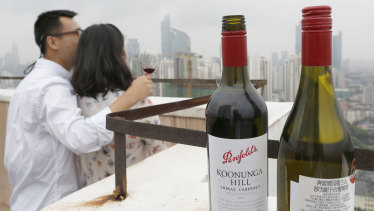 Treasury is currently implementing a number of measures to attempt to counterbalance the drop in earnings it has weathered due to the China tariffs, including a revamp of its US business and scaling up its sales into other Asian markets.
"TWE is executing a detailed response plan to maintain the long-term strength of its business model and brands, with benefits expected to progressively reach their full potential over a two to three-year period," the company said.
"Today's final determination does not result in any change to those plans."
Treasury shares last traded at $10.78.
AMP says there is no certainty a deal with US investment firm Ares will proceed as the exclusivity period between the two ended and speculation mounts over the leadership of the wealth giant.
AMP signed a non-binding agreement in February to carve out AMP Capital's private markets business and sell 60 per cent to Ares for $1.35 billion.
That agreement included a 30-day exclusivity period, which ended on Sunday, at which time a binding agreement could be signed and the portfolio review would be concluded.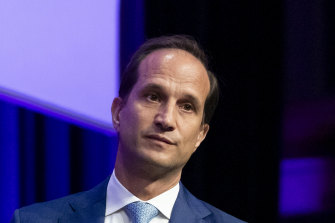 AMP's board had separately said it was negotiating the future leadership of the company, which would be determined once the portfolio review ends amid speculation chief executive Francesco De Ferrari would resign.
AMP on Monday morning released a statement to update the market on the status of the Ares deal, that made it clear that no binding agreement had been signed.
The S&P 500 and Dow rose in a broad-based rally on Friday with technology, healthcare and financial stocks providing the biggest lift as investors bet on a recovery that is expected to deliver the fastest economic growth since 1984.
The S&P 500 and the Dow ended a seesaw week higher as investors rebalancing their portfolios at the quarter's end continued to buy stocks that stand to benefit from a growing economy while they added some beaten-down technology shares.
The Nasdaq also ended higher as less popular tech shares advanced, but the composite index posted its second weekly decline in a row.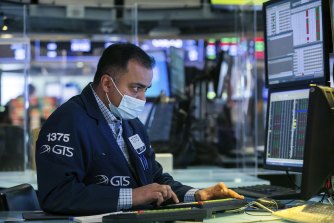 Wall Street surged in the last half hour of trading, lifting all three indexes more than 1%. The S&P 500 and Dow eked out record closing highs.
The Russell 1000 value index, which includes energy, banks and industrial stocks, has gained more than 10 per cent this year, outperforming its counterpart the Russell 1000 growth index, which is just above break-even for the year.
Some of the tech heavyweights slid, such as Tesla Inc and Google parent Alphabet Inc, but Microsoft Corp and Facebook Inc bucked the trend, helping lift the S&P 500 and Nasdaq higher.
"It is less a move out of technology than a move that evidences a broader appetite for equities to include both growth and value," said John Stoltzfus, chief investment strategist at Oppenheimer Asset Management in New York.
The Dow Jones Industrial Average rose 453.4 points, or 1.39 per cent, to 33,072.88. The S&P 500 gained 65.02 points, or 1.66 per cent, to 3,974.54 and the Nasdaq Composite added 161.05 points, or 1.24 per cent, to 13,138.73.
For the week, the S&P rose about 1.6 per cent and the Dow 1.4 per cent, while the Nasdaq slipped 0.6 per cent.
Reuters
ASX futures up 49 points or 0.7 per cent to 6848.0 at 8.30am AEDT
Australian dollar at 76.32 US cents
Wall Street on Friday: Dow +1.4%, S&P500 +1.7%, Nasdaq +1.2%
Europe: Stoxx50 0.9% FTSE +1% CAC +0.6% DAX +0.9%
Spot gold +0.3% to $US1732.52 per ounce
Brent crude +4.2% to $US64.57 a barrel
US oil +4.1% to $US60.97 a barrel
Iron ore +0.9% to $US161.30 a tonne
10-year yield: US 1.68% Australia 1.65% Germany -0.35%
Bitcoin +1.9% to $US55,000
Good morning, and welcome to a new week with Markets Live.
Alex Druce and Lucy Battersby are back on deck. Feel free to drop them a message in the comments if you spot something interesting.
The ASX is set to open higher after a week-ending Wall Street surge.
Meanwhile, the container ship Ever Given has now been stuck in the Suez Canal for five days, 11 hours and 50 minutes.