Entrepreneur Ben Boyd started the ambitious development of Boydtown on Twofold Bay as a centre for his whaling operations with cottages for 400 workmen. There was a lighthouse, and he built the Seahorse Inn, now a refurbished hotel and wedding venue.
Property development company Lyon Group Australia owns 700 hectares of land at Boydtown comprising the Seahorse Inn, a caravan park, and pastoral and residential land. It agreed last week to investigate a name change working with the Indigenous community. They will meet with Eden Local Aboriginal Land Council chairman BJ Cruse, a fierce critic of the use of the Boyd name, in Boydtown after Easter.
Lyon Group managing director Mike Milliken said it was seriously looking into a name change and had appointed a historian as a consultant.
"We have reviewed the history, and we know that the name of Ben Boyd is related not just to the subjugation of Indigenous people in the area, but to 'blackbirding' – the use of South Sea Islanders practically as slave labour in the mid 19th century. All I can say at this point is we are highly sympathetic to local Indigenous wishes," he said.
Mr Cruse appreciates the respectful gesture made by the Boydtown owners. "They have set an example for government to follow," he said. "I think it is the first foot in the door. We want the name changed because of what that man represents. He caused a lot of misery amongst Indigenous and Pacific Island people. It's a long time coming but it is well-received."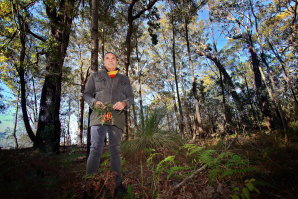 Ben Boyd was a colonial adventurer from Scotland who in the 1840s was involved with ship and whaling industries and sheep farming. He brought two boatloads of slaves from Melanesia in the Pacific. They arrived "naked, wild and restless" with no understanding of the five-year contracts they had agreed to.
When state laws were changed making their agreements invalid, Boyd abandoned them and they were left to wander naked back to Sydney. Amid "disquieting rumours" about Boyd's recruiting methods, the Aborigines' Protection Society and the Anti-Slavery Association pressed the Colonial Office in London for an inquiry.
Historian Dr Marion Diamond, who wrote the book Ben Boyd of Boydtown in 1988, said there was little doubt that Boyd was a rogue. "It is all there [in the book] on pages 140 to 160. I think (NPWS) are aware that there is an issue with Ben Boyd."
Professor Clive Moore, a historian, says he was contacted by NPWS, which wanted to hire a researcher to look into Boyd.
"They want to go and start researching again. I think they are wasting tens of thousands of dollars," he said. "I would have thought just looking in Dr Marion Diamond's book would be quite enough for anyone to say ,'I don't think Ben Boyd is character of the month'."
Tim Barlass is a senior writer for The Sydney Morning Herald