We live in a contested region in increasingly dangerous times and Australia enters the era at war with itself.
There is a global contest afoot that will determine the nature of the powers that set the rules for the 21st century; as China leads autocratic states to overturn the battered liberal democratic dispensation which ruled the last 75 years.
It is a contest of first principles that demands knowing who you are and what you seek to defend. Our adversaries know what they want, from themselves and from us. China made it clear with the release of its 14 grievances that the tribute to be exacted from Australia is that we gag the critics of Beijing. It is a naked demand to change the nature of our democracy. No self-respecting country could agree to those terms.
So, we are in this contest whether we like it or not and, if the authoritarian model triumphs, we forfeit the future.
That would be a crime against Australia's children because, for all its real and imagined sins, this nation offers freedoms and benefits to more of its citizens than almost any other society in human history. Like all human endeavours it is imperfect, but it is infinitely better than the alternative; because in an autocracy only one person is truly free.
The need for Australia to define what it stands for has never been more pressing and, it seems, never further from our grasp.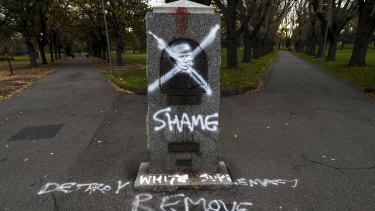 Manning Clark saw trouble ahead for this far-flung Western colony in a lecture he gave in Queensland in 1979 called The Quest for an Australian Identity.  "With Australia there was no declaration of independence, no statement of what Australia stood for, let alone what it was …"
"All the great mythologies of the world stem from a body of belief about either the nature of God or the gods, and the nature of man… recent quests for identity in Australia coincided with the great decline in faith both in God's world, and in the capacity of man to achieve perfection here on earth."