Now that Scott Morrison has got woke on the treatment of women after so much seeing and hearing, he has diagnosed that social media is a big part of the problem. It is so big that he is going to do something about it, he says. Exactly what, he cannot say just yet, but he knows it requires action. Possibly some new rules that will have to be followed by "big tech".
On the Prime Minister's telling, social media is a form of social acid, "one of the key degraders of respect in our country". In truth, the problem is not social media itself but some of the people who use it. Specifically, it is what those people post on social media platforms that is the cause of the trouble. They abuse or humiliate or threaten or just sort of stalk other users and anybody or anything else that displeases them.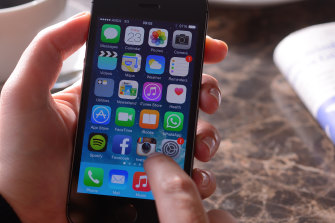 Morrison knows about the misuse of social media because one of his backbenchers, Andrew Laming, is on leave right now so that he can undergo counselling after his online trolling of two women in his electorate was revealed.
On the weekend, Laming decided to leave parliament at the next election following a further revelation that he had taken a picture of a woman bending over at her workplace. Reportedly, underwear was visible and Laming had not asked permission before taking the photo.
Has any of this finished off Laming as a member of the Morrison government's parliamentary team? No way.
While the misuse of social media is hurting women so badly that it requires new laws and the Prime Minister is making much of viewing the plight of women through a new "lens" via a rearranged frontbench, he is happy for Laming to remain in his government.
There is only one reason for this. The government has just a one-seat majority in the lower house. Were Laming to be booted out by the PM and moved to the crossbench, the government would be relegated to minority status.
Sharp-eyed readers might be thinking right now, "But didn't the Morrison government secure a two-seat majority at the 2019 election? What happened?" Yes, the government did begin 2021 with a two-seat buffer but that fell to one-seat last month when another backbencher, Craig Kelly, resigned from the Liberal Party after his determined online promotion of quack treatments for COVID-19 eventually became too controversial even for the PM.