On Saturday, as the game drew nearer, the couple decided that plan was not necessary and Mick coached the game on high alert while Rachel remained in comfortable surroundings at home, cheering the Demons on from the couch.
The two-point win was enough for the Stinear baby to signal his intent to be part of finals action. Baby boy Jack Stinear arrived at 11pm on Saturday night, just hours after the Demons achieved a comeback victory over the Lions to finish the season in fourth.
Young Jack might just have something in common with premiership Cat Brad Ottens and premiership Lion Clark Keating.
It seems, like them, he's only interested turning up for finals.
Toby Greene, the free kick machine
The Giants' Toby Greene has received eight free kicks in 2021 and not conceded one.
Yep, that's the same Toby Greene who received just eight free kicks throughout 2020; the same player who people said regularly last season was crucified by umpires.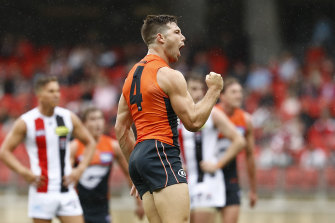 That Toby Greene, the player awarded more free kicks than anyone else in 2021, who has not given away a free kick in his past five matches.
Surely that's enough to warrant a please explain to someone in the umpiring fraternity.
At the other end of the scale is Geelong's reborn defender Tom Atkins, who is yet to receive a free kick in 2021 while conceding nine already.
The 25-year-old Cat is a hard nut but he might want to clean up that part of his game now that he is a defender.
While on free kicks, Atkins is one of just three players who have conceded more free kicks than Zac Bailey, the Lions' forward famously denied a free kick in the dying seconds of Friday night's thriller against Geelong.
Bailey has given away seven free kicks this season, earned four and received three.
Lions legacy
While on the Lions, Snap Shot notes that William McDowell-White, the son of a Brisbane gun Darryl White, has joined the New Zealand Breakers to play in the NBL just a month after being added to the Boomers squad as a potential Australian representative at the Tokyo Olympics.
While it remains uncertain whether the 22-year-old will make the Olympic team, the former Brisbane Lions academy graduate is sure to be watched closely when he hits the boards in Australia during the NBL season given his pedigree. His father perfected the early jump and hover while flying for marks in his 268-game career with the Lions, a career that yielded three flags.
Peter Ryan is a sports reporter with The Age covering AFL, horse racing and other sports.