What a game that was. The Lions win it after the siren and avoid going 0-3, and instead are 1-2.
The Pies are also now stuck on 1-2, having led that game for the vast majority of the evening.
Thanks for following along everybody. Join us tomorrow night for live coverage of Dogs v NM on Good Friday.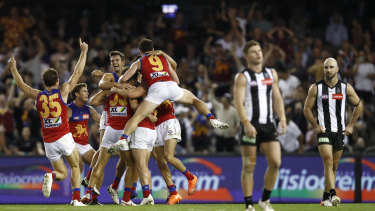 "When you lose a game at the death you are not as positive as you might be otherwise," Buckley said. "If that kick had missed or if we had been able to ice the game – there would still be plenty of areas of improvement. We didn't defend the ground well enough in the second-half. They were able to get territory from us too easy from our forward line and some of our execution going inside 50 didn't help us either.
"There's an over emphasis on certain parts of the game. One of those is hit- outs. It's not a stat that has a strong correlation. And when you know you are going to lose at the hit-outs, you can actually set up pretty well at ground level to be able to buffer that.
"So, that's what sides without a dominant ruckman do. Brodie [Grundy] is not just a hit-outs ruckman he follows up he's a midfielder and that's what he provides to us and gives us. He played particularly well.
"It wasn't the hit out differential, it's largely irrelevant. It's what we do at the ground level with that. He still had hit-outs to advantage … the hit-out stats are furphy. It's what you actually do with it. So we've had sides congest us for the last couple of years and we understand the differential of hit-outs and – but no, we're – we think that we are doing that OK. But we've – when we win the contest inside at the ground, we actually have great clearance results and it was pretty even tonight in the end on the ground."
"I think we have a fair few things to do [to reach the summit]," he said. "But you know playing in those types of games like Richmond in last year's qualifying final, even the game last week against Geelong, and tonight, I think they – they forge a bond within the team that makes them believe.
"You know, belief is the icing on the cake in sport. And you know, I think our guys are gradually starting to build that. You know, they could have easily dropped their bundles this week after what happened last week. You know, you lose a game, perhaps you could have won, and then suddenly our lives get turned upside down but they didn't. And credit to them.
"It was a brave effort by him [Lachie Neale] to play tonight … he hasn't got a serious injury, he is just pretty sore."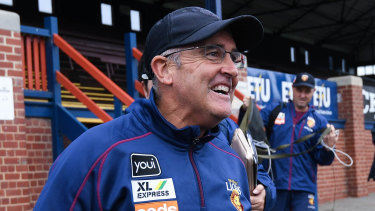 "I couldn't look [when Bailey had the shot]," Fagan said. "And I reckon my mum would have been at home saying her Hail Marys when the ball went through.
"With Zac with the ball in his hands, he's actually quite a cool customer Zac. I'm not surprised that he kicked it through. Great moment for him in his football life. And great moment for our footy club fortunately.
"We had been creating opportunities. Our composure to go inside 50 let us down. I said [to the team] that the team that can show composure in the last quarter [will win] because it will be a tight game might win.
"Look, win lose or draw I wanted us to play with great effort tonight and real grit. That's what we did. It certainly helps to get a win on the board and get yourself back in the hunt because 0-3 is not ideal."
Brisbane's ruck, Tom Fullarton, had three.
Collingwood only won the clearances by five.
Somehow Daniel Cherny has quickly made sense of that and filed minutes after the final siren.
Click here to read how he saw a stunning night.
Remember, he would have had the late kick to win it last week had the umpires made the right call.