Australian economist Sean Turnell has been charged along with Myanmar's ousted leader Aung San Suu Kyi with breaching the country's official secrets act and faces a prison term if found guilty.
Khin Maung Zaw, the senior lawyer representing Suu Kyi, told The Sydney Morning Herald and The Age on Thursday night that Turnell, an adviser to Suu Kyi, was charged on March 25 in East Yangon District Court. Suu Kyi and three of the ministers from her government were also charged under the colonial-era act, he said.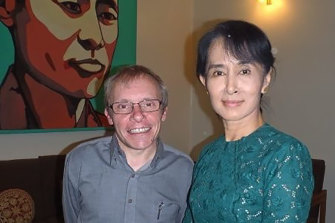 The lawyer said Turnell and Suu Kyi were charged under section 3.1C of the Burma Official Secrets Act. It refers to the collecting, publishing or distributing against the interests of the state of "any secret official code or password, or any sketch, plan, model, article or note or other document or information which is calculated to be or might be or is intended to be, directly or indirectly, useful to an enemy".
It is punishable with a prison term of up to three years or, in the case of naval, military or air force affairs of the state, up to 14 years.
Khin Maung Zaw said "all five of them were charged under the same section" and that he would be defending Turnell and the three ministers as well as Suu Kyi, who was already facing a string of other charges.
Turnell, who was devising reform of Myanmar's banking processes, was accused on state television last month of trying to flee the country with secret government financial information but the lawyer said he had not been given the details of the allegations being made by prosecutors against the Sydney-based academic.
"We haven't go that information because we haven't officially been appointed as his lawyers yet and we cannot look at the papers of that case," he said.
"Three senior lawyers and two junior lawyers from Yangon will represent those five."