If the Australian property market were a party, it's at that point where the drinks should be put away, the guests kicked out and the bed turned down for a good night's sleep.
Unless the Reserve Bank, the Australian Prudential Regulation Authority and federal and state governments step in soon, the country is going to wake up with a hangover that will last for years.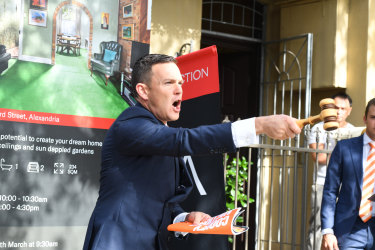 CoreLogic data showing the biggest monthly increase in capital city property values since Kylie Minogue's insufferable I Should Be So Lucky spent six weeks at the top of the Australian charts in 1988 is a sign of something very much amiss in the property market.
Sydney's median house value jumped $50,000 in March, or $1600 a day. Since the start of the year, it has climbed $100,000, which, if it doesn't slow, could see the median house price value reach $1.4 million by year's end.
In Melbourne, the increase has not been quite as sharp but at $60,000 since New Year's Day, the median house value could top $1 million by Christmas Eve.
Loading
But this is not just a story about our capitals.
The RBA, and others, have maintained for years that one of the factors behind high house prices is planning and public transport access in our most populous cities.
Those factors, however, can't explain how the median price of a house in an area such as NSW's Central West (up 13.4 per cent or $46,404 over the past 12 months) or Launceston and Tasmania's north-east (up 14.9 per cent or $50,279) has grown so quickly over such a short period of time.