Melbourne's median house price has risen $60,000 since the new year began as property values defy a global pandemic, leaving investors and first-home buyers battling it out at auctions.
Property prices are surging in capital cities across the nation with Melbourne values up 2.4 per cent in March, led by a house price rise of 2.6 per cent to a new median of $859,097 on CoreLogic data. At the start of the year Melbourne's median house price was $799,980.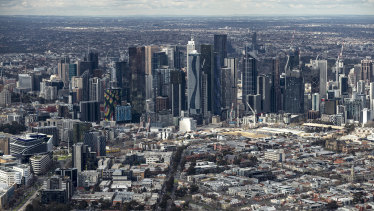 Property prices nationally increased 2.8 per cent over the month and every capital city grew faster than its regional counterparts except for Melbourne, which was modestly outpaced by country Victoria.
Major banks, economists and analysts now suspect the boom could slow rapidly due to expectations regulators may put their foot on the brakes to stop the market from overheating.
ANZ recently predicted property prices could surge as much as 19 per cent in Sydney and 16 per cent in Melbourne before slowing in 2022. The bank's economists say regulators could intervene to curb lending to stop the market from overheating, though so far the Australian Prudential Regulation Authority has not been concerned about lending standards.
On the latest Australian Bureau of Statistics lending data released on Thursday, investors took out 4.5 per cent more loan commitments in February than the month before. This potentially signals a shift in the market, with first-home buyers and owner-occupiers so far dominating lending statistics. Between February 2020 and the same month in 2021, first-home buyer loans have risen 65.8 per cent in reaction to substantial state and federal government incentives and low interest rates.
Loading
In Sydney the median price rose 4.3 per cent last month. The last time prices there surged at that level was in June and July 2015, CoreLogic research director Tim Lawless said. "Following this brief surge, the pace of growth rapidly slowed as limits on investor lending kicked in to slow the market," Mr Lawless said.
While record-low interest rates are expected to remain for years, housing affordability issues, a decline in fiscal stimulus and the possibility of tighter lending policies could all have an effect over the next few months. The HomeBuilder grant, which tapered down to $15,000 for the first three months of the year for new home builders, ended this week.