"Our penguins are doing well, but we have to do everything in our power to make them resilient in face of inevitable further increases in ocean temperature."
It's likely that as the strait continues to warm, fish species will move to cooler water and penguins will have to travel further for food, he said.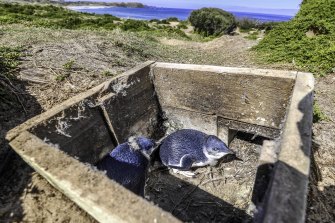 "At the moment the temperature is rising and this has been beneficial … but as it gets warmer and warmer at some point there will be a tipping point."
The rising temperatures are having another effect on the colony's penguins: they are breeding earlier and up to 2 per cent of older adults in the colony are breeding twice in the same season, a phenomenon known as "double clutching".
In a collaboration with Monash University and the Institut de Ciencies del Mar (Institute of Marine Science) in Barcelona, scientists at Phillip Island Nature Park used 11 years of data to find out why penguins are breeding twice.
They discovered it is older penguins who are breeding again in autumn, according to their study "Making the most of old age" published in the scientific journal Ecology and Evolution.
Loading
These older penguins seem to be aware of their diminishing reproductive potential and start breeding in response to environmental cues, such as warmer autumn ocean temperatures. Between 1 per cent and 2 per cent of adult birds are breeding twice.
"They realise life [is] about to end … and rather than putting energy into survival … [they] put more energy into breeding," Dr Chiaradia said.
The little penguins are also vulnerable to temperature change on land. The nature park has put considerable effort into habitat restoration and Phillip Island is now fox-free.
During a cluster of days over 35 degrees in 2019, the penguins became extraordinarily heat-stressed while moulting in their burrows. Hundreds were found dead in the days afterwards, the greatest known loss to the colony.
In collaboration with La Trobe University, the park is testing 50 artificial burrows, in five different designs, to better protect penguins during extreme hot weather caused by climate change. These include burrows with pitched roofs, small chimneys and elevated ceilings.
The little penguins gained new fame during the 2019 coronavirus lockdown, when live streams of the Phillip Island population went viral after BBC sports commentator Andrew Cotter did a video "calling" their nightly parade.
Miki Perkins is a senior journalist and Environment Reporter at The Age.
Most Viewed in Environment
Loading