"And yet, in normal times, deposits were typically very sticky, with very few transactions on most accounts. This high degree of deposit stickiness appears to be because most people maintained these deposits to save for significant life events, such as buying a home or getting married."
Loading
The researchers found net withdrawal rates increased as economic conditions deteriorated. This included the increase in unemployment and fall in wages, features of both depressions, that forced Australians to dig into their savings to survive.
There was also a drop in confidence about the viability of banks. The Government Savings Bank of New South Wales was forced to merge with the Commonwealth Savings Bank in 1931.
La Cava and Price said while the economy and banking systems of today are far different from those of the previous two depressions, there may be similarities to the actions of customers across the generations.
"There are likely to be features of depositor behaviour that hold true today. For example, depositors appear to distinguish between a bank that is under financial stress and systemic banking stress when deciding whether to withdraw their money or not," they found.
The Australian household savings ratio soared to its highest level since the early 1970s in the early stages of coronavirus recession but people are now starting to run down those savings as the economy recovers. It has dropped by 10 percentage points over 6 months, the largest half-yearly fall on record.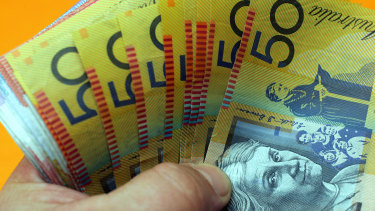 In the 1890s depression, deposits from "rich" customers actually increased sharply.
Separate research by the RBA shows Australians responded to the coronavirus recession by dramatically increasing the amount of cash they had on hand.
From mid-March last year, when the country went into a nationwide shutdown, there was a large lift in demand for banknotes, especially $50 and $100 denominations.
Loading
The value of banknotes in circulation jumped by 17.1 per cent, reaching $97.3 billion, in the 12 months to February 2021, even as Australians increased their use of tap-and-go and online payment systems to make purchases.
Annual banknote growth had averaged 5 per cent a year before the recession.
Banknotes as a share of GDP are now at a historic high of 4.9 per cent.
The RBA found 70 per cent of the volume of banknotes issued since March last year have been $50 while $100 made up another 20 per cent.
Even returns to the bank of old series or poor quality notes has fallen as people hoarded cash.
"The increase in high-denomination banknotes in circulation, coupled with reduced transactional cash use, suggests an increased desire in the community to hold banknotes as a precaution or store of wealth," the bank found.
Shane is a senior economics correspondent for The Age and The Sydney Morning Herald.