The suspect then "exited the vehicle with knife in hand" and lunged toward police, she said.
The officers then opened fire, fatally wounding the suspect.
The police officer who died in the attack was later identified as William Evans, who had served in the United States Capitol Police for 18 years.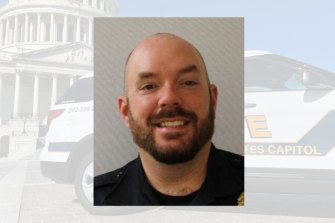 The suspect was identified as Noah Green, a 25-year-old from Indiana.
In social media postings leading up to the attack, Green said he had lost his job, suffered medical ailments and been targeted with "mind control."
In another post on Facebook he identified himself as a devout follower of Louis Farrakhan, the controversial leader of the Nation of Islam, a black nationalist religious group.
US President Joe Biden said in a statement that he and wife Jill were "heartbroken" by the attack.
"We send our heartfelt condolences to Officer Evans' family, and everyone grieving his loss," Biden said.
"We know what a difficult time this has been for the Capitol, everyone who works there, and those who protect it."
Biden had just departed the White House for Camp David when the attack occurred.
House Speaker Nancy Pelosi ordered the flags at the Capitol to be flown at half-mast following the incident.
Video posted online showed a dark-coloured sedan crashed against a vehicle barrier and a police K9 unit inspecting the vehicle.