Thanks for joining us for a loooong Good Friday doubleheader blog, starting with the Bulldogs being kept scoreless for the third straight week in a 38-0 belting at the hands of the Rabbitohs and then Ryan Papenhuyzen stealing the show in Melbourne's 40-6 drubbing of Brisbane.
Let's hope the rest of the weekend's matches can be a little more competitive.
I'm off to raid the cupboard for some Easter eggs. Enjoy the rest of your long weekend.
Good night.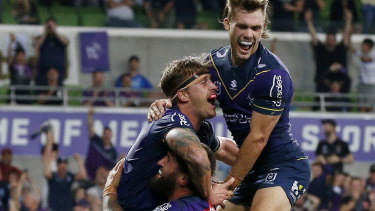 Putting aside the obvious brilliance from the Storm, there has to be some concern about the widening gulf between the top and bottom teams with three absolute blowouts to start the Easter long weekend. The Panthers, Rabbitohs and Storm are in another stratosphere compared to the Sea Eagles, Bulldogs and Broncos, who are all in for long years.
They might not say it publicly, but the NRL will have cause for concern with the turn-offs these games have been in the second half. Anyway, let's not take away from the brilliance of little Papi and the Storm snapping that huge two-game losing streak.
Well, that's the end of the Ryan Papenhuyzen Show. Right on full-time Josh Addo-Carr kicks a penalty goal from in front in his 100th game for the Storm after Jamayne Isaako's dropout doesn't go the 10 metres.
The little Melbourne magician Papenhuyzen scored four tries – yes, four – in the space of 11 first-half minutes and then laid on another two tries after the break as Craig Bellamy's side shrugged off a lacklustre first 20 minutes to belt the Brisbane 40-6. Papenhuyzen had 26 points himself.
And it's another night of soul searching for Kevin Walters and his battered Broncos.
A bit of a concern for the Storm with Josh Addo-Carr limping from the field with what appears to be a knee problem, but he quickly realises Melbourne have no interchanges left and he hobbles back on. It doesn't look too bad.
Only two minutes left.
Well, I thought we had seen it all. But apparently we hadn't. Now, I think we have.
That man, Ryan Papenhuyzen, flicks a ball around his back – yes, his back – after a Jesse Bromwich offload for Cameron Munster to soccer the ball through to the in goal and score. You won't see a wilder try all weekend, and I'm loving seeing it.
Papenhuyzen makes no mistake with the conversion and the Storm have racked up 38 unanswered points to lead 38-6 with only 10 minutes left.
Seriously, what else can they do in the final minutes?
Oh my goodness. Ryan Papenhuyzen has gone all Kazaly on us AFL-style and leapt so high in the air he won't come down until tomorrow, and somehow he has tried to throw the ball backwards as he comes crashing to the ground. Has he done it? Tom Eisenhuth has picked the ball up and tried to score.
The bunker says no. The poor old eyes in the sky can't keep up with this freak. They say it's a knock on and not a pass. It was probably a line ball call, to be fair. But imagine if they gave it the green light.
Oh well, play on.
Outstanding. How good was that to watch from the Storm?
A beautiful attacking set play from the Storm, which results in Ryan Papenhuyzen firing a crisp pass out to George Jennings, who has his second try in the space of five minutes. I'm not sure if he can bag four in 11 minutes like his mate in the Melbourne No.1, but he's on his way.
Papenhuyzen, who is setting up tries as well as scoring them, overcorrects from his previous conversion attempt and leaves it hanging out to the right. Melbourne lead 32-6 with 15 minutes left.
It's all looking very doom and gloom for the Broncos now.
George Jennings, who had what can only be described as a nightmare a couple of weeks ago, gets a reward with Jahrome Hughes' kick inexplicably left to bounce by the Broncos, which allows Tom Eisenhuth to pick it up and send his winger over for the easiest try of his career.
That's a nice reward for Georgey boy after a tough start to his Melbourne career and the first try not scored by Ryan Papenhuyzen for the Storm tonight.
Papenhuyzen finally has a conversion attempt which is not from in front and he hooks it across the face. The Storm lead 28-6 with 21 minutes left.
Brandon Smith, aka The Hectic Cheese, has come from the field for a Storm side which has slipped back into second gear after that first-half flurry. Nicho Hynes is on to play dummy-half.
Brisbane has looked much better in the second half, but the fact we've been scoreless after the break is not helping them. Melbourne still lead 24-6 with 26 minutes left and the seagulls are hovering overhead in droves.