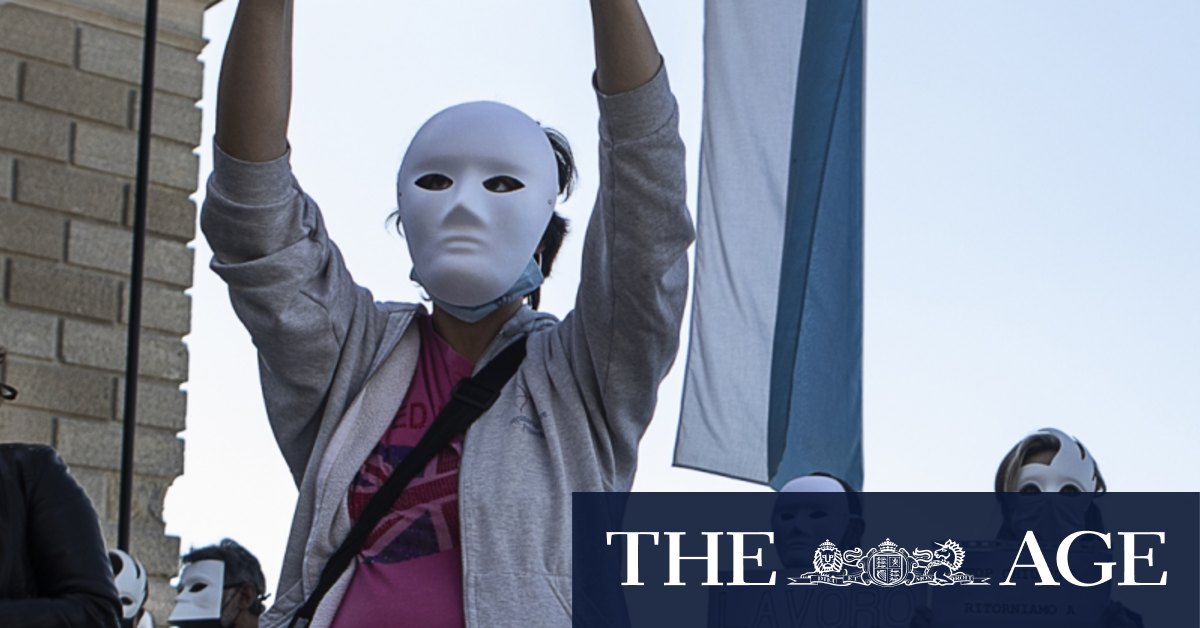 Signs of San Marino's friendship with Russia dot the sloping stone streets of the historical town centre. A few paces from the city walls is a 2006 statue of a terrified boy, dedicated to the hundreds of children killed by Chechen militants in the Beslan school siege of 2004. At the national university is a bust of the first person in space, Soviet cosmonaut Yuri Gagarin.
San Marino did not back sanctions against Russia over the invasion of Crimea. In 2019, Sergey Lavrov, Russia's foreign minister, visited San Marino without stopping in Italy.
"Politically there is a strong link," said Sergio Rabini, 62, the director of the San Marino hospital, who was himself hospitalised with COVID-19 in October. He walked past the COVID ward, still packed with patients intubated in intensive care, and down to the vaccination centre.
"Here's Sputnik," he said, holding up one of the thawing vials. He said it wasn't the first time his country didn't follow the lead of Italian or European regulatory agencies.
"Viagra," he said with a grin. "We had it before the Europeans authorised it."
Sputnik is just the latest tool Moscow has used to gain influence in Europe, exploiting rifts between the European Union, which has had a disastrously slow vaccine rollout, and some member states. This week, Slovakia's prime minister resigned amid an uproar over his secretly arranging a delivery of Sputnik.
Roberto Ciavatta, San Marino's health minister, said he understood that many people saw geopolitics in Russia's vaccine diplomacy, but that for his nation, the issue was much simpler.
"The only vaccine in that moment available on the market was Sputnik," he said as he sat in his office in the hospital complex.
Vaccine makers told San Marino they would deal only with the European Union, Ciavatta said, and his government's direct appeals to the Biden administration and the U.S. consulate in Italy went nowhere.
Just as San Marino is within Italy but not part of it, it is ensconced in the heart of the European Union, but not a member of the club and its vaccine buying program. As Europe's vaccination efforts stumbled badly, San Marino risked falling ever farther behind.
With help from Russia, the positions are now reversed. San Marino has given at least one vaccine shot to 26 per cent of its people, more than double the EU average. Officials say hundreds of Italians have tried to make vaccination appointments here, and some even showed up, hoping in vain to get vaccinated by the foreign state next door.
"We asked Italy for help and didn't get any," Denisa Grassi, a 42-year-old teacher, said after receiving her shot. "Now it's the Italians who ask us."
Some Italians see in San Marino's embrace of Sputnik only its latest provocative pandemic behaviour.
In November, when Italy imposed a 6 p.m. curfew on eateries, San Marino kept its bars and restaurants open until midnight, luring Italians and their euros across the invisible border to what Italian officials worried was a hilltop viral breeding ground.
"It was mostly young people who took advantage to go out at night," said Aldo Bacciocchi, 50, whose restaurant, Ristorante Bolognese, was recently featured on Russian television. Now, San Marino's restaurants must close by 6pm, and Bacciocchi said business was lousy and he didn't see a way back to normalcy unless people got vaccinated. His mother, 77, was scheduled to receive her second dose of Sputnik on Friday.
"It's not that we prefer it," he said. "It's that it's there."
New York Times