It added that the route had "the potential to deliver considerable freight productivity benefits to all import/export Inland Rail freight, while unlocking additional resource developments in the Surat Basin".
The proposed Toowoomba to Gladstone leg of the Inland Rail would use a mix of existing and new rail between Toowoomba and Miles, then Miles to Wandoan, before using a new Surat Basin rail line, which would link to the Moura rail line into Gladstone.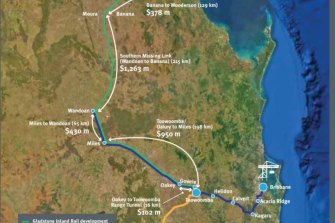 In 2017, consultants AECOM assumed a new standard-gauge track alongside the existing narrow-gauge line would be developed between Toowoomba and Wandoan, while the Surat Basin Rail Project would be dual gauge, and the Moura system between Banana and Gladstone would be upgraded to dual gauge.
"This would allow the coal freight task to use the existing narrow-gauge coal infrastructure initially, and the non-coal freight to use the standard-gauge infrastructure," AEC Group's February study found.
Mr Abbott said resource industry figures told him smaller coal mines would develop if the Surat Basin rail line was completed.
"They are not of the size that can justify building their own railway line, but if the railway line is there, they will come," he said.
The case for Gladstone Port over Brisbane
Offers the potential to remove coal trains from Brisbane's suburban network
Quicker freight times to Asia
Enables a $15.6b resource investment in regional Queensland
Brings forward the Nathan Dam and pipeline project
Deeper port enables larger container ships
Up to 18,300 extra jobs in regional Queensland
Development of a fourth major container port for eastern Australia
Reduces the cost of Inland Rail by $4.8b
Up to 3 years quicker delivery of the Inland Rail project
The Port of Gladstone is publicly owned, paying an $80m dividend to the state government in 2019-20, plus $70m in taxes
(Source: Toowoomba to Gladstone Inland rail project submission)
Cr Burnett compared the privately owned Port of Brisbane with the state-owned Port of Gladstone, which paid $80 million in state dividends in 2019-20.
"Queenslanders should be wanting the freight to come to the Port of Gladstone, which is owned by the people of Queensland and returns a dividend to the state government on a regular basis," he said.
Tony Moore is a senior reporter at the Brisbane Times