He said the most disappointing aspect of the loss was their work around the contest.
"We didn't even challenge them defensively," Ratten said. "Defensively, that is as bad as we have been. It was hard to watch."
The inability to lay tackles and stop Essendon from surging forward was evident, with Ratten saying the players weren't the only people embarrassed with what transpired.
"I was embarrassed too. I'm the leader of this team and I am the coach so it comes back to me, yeah I think everyone was embarrassed and everybody should [be embarrassed]. You feel for our supporters to dish up that," Ratten said.
He said he had identified the remedy with the mindset needing to change to improve the defensive system.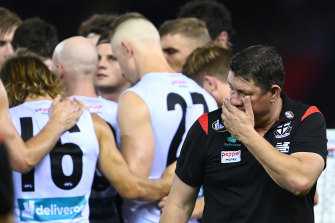 Their ball use was also ordinary but Ratten said he suspected their manic approach may have been driven by the scoreboard, which affected their composure.
Apart from losing Gresham, Zak Jones may be in doubt after rolling his ankle and Ratten said they needed to have a conversation about whether ruckman Rowan Marshall – who played in a VFL practice match on Saturday – would be available.
Loading
Meanwhile, Essendon coach Ben Rutten said he was pleased to record his first win as senior coach although the performance did not surprise him as much as external observers.
They now face the challenge of backing the win up with a strong effort in just five days' time against an in-form Sydney next Thursday night at the Sydney Cricket Ground.
Rutten said Dyson Heppell was a chance to return as he was training after suffering back issues leading into round two but the Bombers may lose Mason Redman after he was subbed out of the game with a hamstring injury.