"Major League Baseball fundamentally supports voting rights for all Americans and opposes restrictions to the ballot box," he added.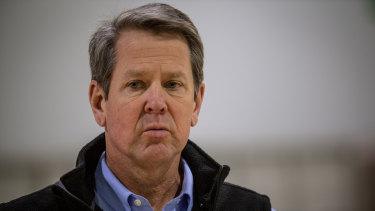 "We proudly used our platform to encourage baseball fans and communities throughout our country to perform their civic duty and actively participate in the voting process. Fair access to voting continues to have our game's unwavering support."
Dodgers manager Dave Roberts, one of two black managers in Major League Baseball, said of the move, "I support it."
"I'm not completely versed on everything, but my takeaway from the bill was essentially to suppress voting for people of colour," Roberts said. "And that's something I fundamentally and intrinsically disagree with."
Support for the move was not universal around Major League Baseball, particularly in Atlanta, where the Braves quickly issued a statement saying they "are deeply disappointed" in the decision.
"This was neither our decision, nor our recommendation and we are saddened that fans will not be able to see this event in our city. The Braves organisation will continue to stress the importance of equal voting opportunities and we had hoped our city could use this event as a platform to enhance the discussion," the statement read.
"Our city has always been known as a uniter in divided times and we will miss the opportunity to address issues that are important to our community. Unfortunately, businesses, employees, and fans in Georgia are the victims of this decision."
Georgia lawmakers and public figures channelled anger, disappointment and approval Friday in their responses to the announcement.
Freshman Representative Marjorie Taylor Greene, a Republican from Georgia, said MLB needed to "stop listening to their corporate communist sponsors and remember the little guys who buy their tickets."
"Keep the politics off the field and stop ruining everything!" she tweeted.
Representative Jeff Duncan threatened the league's antitrust exemption in his tweet.
"In light of @MLB's stance to undermine election integrity laws, I have instructed my staff to begin drafting legislation to remove Major League Baseball's federal antitrust exception," he wrote.
Even Democrats have been unable to agree on the role corporations should take in protesting the law.
In an interview with ESPN Wednesday night, Biden said he would "strongly support" moving the game from Atlanta after the passage of the law he referred to as "Jim Crow on steroids."
Washington Post
What in the World