I am no Machiavelli, but having spent the bulk of my career in communications, I have developed a couple of princely rules. One of these is to choose your allies wisely. The wrong ally will bring your cause more thoroughly undone than the most vicious opponent. Zealots, ideologues and activists are exciting to have on side, because they fizz with energy and enthusiasm. They're great to make a noise and get things started. But if you're in the business of shifting community attitudes, beware entanglement. Their absolutism will inevitably become a liability and their agendas will override the wider project.
The women's movement inspired by the stories of Brittany Higgins and Grace Tame is at risk of succumbing to the control of such an agenda. Since I have a stake in gender equality, as well as a deep-seated belief in equal opportunity as a principle, this is a plea to avoid being co-opted.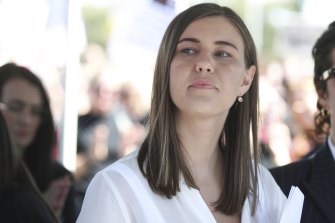 There are a lot of similarities between the women's movement now and the climate action movement before the last federal election. In both cases, the political response will affect every single Australian.
Just in case it needs to be said, both these causes should be above politics. In order for either to succeed, both movements need a broad base of support which reaches beyond the third of the population that gives its primary voice to either of the major political parties. So when the cause is hijacked to effect a change of government, it takes a wrong turn.
Before the 2019 election, polling showed that more Australians than ever before supported government action on climate change. But instead of using this mood to build cross-partisan consensus on action, some activists decided that the best way to honour the wishes of almost two-thirds of the population was to use it to campaign to topple a party supported directly by a third and through preferences by around a half.
Freelance activist and founder of the Greens Bob Brown led an anti-Adani mine convoy from Tasmania up the east coast to Queensland, to protest the mine. The tour backfired and sent a message to regional voters that inner-city hippies were planning to meddle in their livelihoods. GetUp, another example of the sort of group you don't want on side if you're hoping to win a thing, campaigned hard on climate action, using questionable tactics. After the election, Labor candidates complained that GetUp volunteers were pushy at the polling booths and "used strident language that turned off some voters".
We know how that turned out. Activism didn't win the election and backfired on the activists. A week out from the 2019 election, Gary Morgan, executive chairman of research company Roy Morgan, told me that "the Greens and the ALP are marketing on climate change – but everyone except Greens supporters is saying that the cost of living is the most important thing to them". Quietly then, voters cast a ballot based on their priorities and maybe a handful were swung by activists to vote against the cause the activists were championing. When the Coalition won, there was less pressure on them to act on climate change than there would have been had the election not been framed as a referendum on climate change.
The new women's movement can learn a lot from the missteps of climate change activists. But activists are doing their best to alienate some women. Like playground bullies, they have made themselves the arbiters of which women are allowed to be part of the movement. When outgoing MP Nicolle Flint told Parliament of the harassment she'd suffered at the hands of GetUp (remember them from the climate election above!), her experiences were dismissed.