"We're definitely above average, but it's not the warmest Easter that we've had, because Victoria recorded 34.9 degrees in 1940."
Others found themselves at St Kilda Beach unexpectedly. Bairnsdale couple Liz and Trent Nielsen were meant to be spending the long weekend in Brisbane with family, but cancelled their trip with Ryder, 4, and Isabella, 5, because of the recent coronavirus outbreak.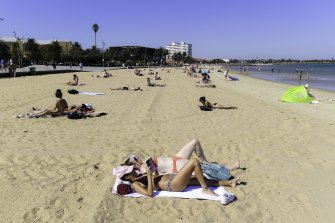 "We were going to be there for about five days, but then decided to come down here for a weekend instead," Mrs Nielsen said. "At least the weather is perfect."
Craigieburn man Aws Naalband said the warm weather had caught him by surprise.
"It's the hottest Easter I can remember," he told The Age, as his daughter paddled in the shallows.
"If I had known the weather was going to be this good, I would have booked a holiday house to stay somewhere for the weekend."
The Country Fire Authority said the Wimmera and south-west regions of Victoria had a "very high" fire danger rating on Saturday, owing to strong north-westerly winds.
Warrnambool is forecast to reach 34 degrees, with wind gusts of more than 50 km/h recorded at 11am on Saturday.
VicEmergency urged campers to be vigilant with extinguishing fires over the long weekend.
"If you're lighting a campfire, always ensure that the fire is completely extinguished before you leave," it said on Twitter.
Melbourne recorded its hottest Good Friday in more than 80 years yesterday, with parts of the city hitting 30.6 degrees in the early afternoon.
The last time similar temperatures were reached on Good Friday was March 26 in 1937.
Ashleigh McMillan is a breaking news reporter at The Age. Got a story? Email me at a.mcmillan@theage.com.au