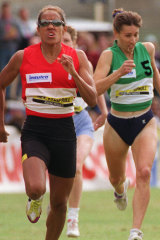 To win, he has to not only overcome the handicappers but an impressive field that also boasts Matthew Ramsden, Brett Robinson, Dave McNeill, Jack Rayner, Ryan Gregson and Jordan Williamsz.
These are not stooges. Ramsden and Robinson both competed at the world championships, McNeil has been to two Olympics, Rayner has won a national 1500m title, Gregson has national titles, held the national 1500m record before McSweyn and has been to two Olympics.
"It's a really good field so I am going to have my hands full and will have to go full throttle to catch them," McSweyn said.
"When you watch at home, handicapped races might look easy but you just focus on passing the next runner and the next and it's hard getting over the last ones.
"It will be fun. I am rapt I saw video of Cathy Freeman's race just this morning. You see she gets a bump and goes again.
"It's exciting to have a crack at it. Stawell is just such a famous, great event. I am excited to be able to race here."
AIA Vitality Invitation 3200m from 1.33pm:
Stewart McSweyn – 0m
Matthew Ramsden – 40m
Brett Robinson – 55m
David McNeill – 55m
Jack Rayner – 60m
Ryan Gregson – 70m
Jordan Williamsz – 75m
Ben Buckingham – 100m
Joel Tobin-White – 110m
Adam Spencer – 180m
Thomas Thorpe – 200m
Christopher Dale – 210m
Jhye Hadfield – 290m
Oscar Robinson – 320m
Men's and women's 120m betting: