AMP's first female chief executive will be paid a smaller fixed salary than her predecessor but corporate governance experts claim this is due to the reduced size of the company, not the gender of the boss.
AMP announced last Thursday that chief executive Francesco De Ferrari would "resign" from the role in the coming months and be replaced by ANZ deputy chief executive Alexis George.
Her sign-on package includes a base salary of $1.7 million, which is a pay rise from ANZ where she earned $1.1 million per year, but is $500,000 less than what Mr De Ferrari was offered when he joined the company in 2018.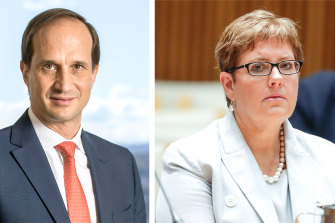 ISS head of research Vas Kolesnikoff said the disparity has nothing to do with gender as Ms George would inherit a smaller company with a domestic focus and had no prior experience as a chief executive.
"I don't want to be a male going out there and saying this is right. But pretty much every new CEO we see coming into a role, who certainly hasn't been a CEO before, comes in at a lower package. It's as simple as that."
Former Chief Executive Women president Sue Morphet agreed, claiming it was common for new CEOs to be paid less than their predecessors and the smaller base rate was likely due to AMP's changed business model.
"Sometimes companies are made smaller, therefore you have to assess the salary according to the needs and demands of the job. On the outside, it might look like it's being paid less but the company might be smaller," Ms Morphet said. "Or it could be, you know the person who was paid before was paid far too much, we're embarrassed by it, we need to reset the dial."
Ms Morphet said any gender discrimination would be evident in the future pay rises given to the company's first female CEO.
Mr Kolesnikoff said Mr De Ferrari's pay packet was designed to lure the experienced investment banker from Credit Suisse, where he had worked in various executive roles in Asia and Europe since 2002.