Hundreds of feral horses were released into the Kosciuszko National Park over the past year, sparking criticism that government policy is undoing the benefits of programs to rein in the habitat-damaging animals.
The Victorian and ACT governments have plans to shoot feral horses in their alpine areas, but over their borders in NSW the law bars culling and protects horse "heritage value".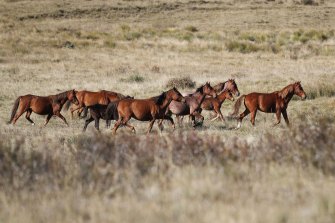 One-third of the feral horses trapped in the park since July have been released back into the wild by the NSW National Parks and Wildlife Service (NPWS). In that time, 484 horses were removed and rehomed.
Significantly, 279 mostly mares and foals were released from traps and allowed to continue breeding. There are an estimated 20,000 horses in the Australian Alps, and 14,000 in Kosciuszko alone. Twenty years ago, the figure was about 1500.
Loading
The environment of the Australian Alps is national-heritage listed and protected by state and federal law. Hard-hoofed horses are destroying rare sphagnum moss wetlands that form at the headwaters of the Murray and Murrumbidgee rivers, damaging rare habitats and out-competing native animals for food.
A spokesperson for NPWS said most of the released horses including pregnant mares and foals would become too stressed and were "unfit for transport", and the agency was committed to maintaining the "highest possible" animal welfare standards.
NSW abandoned plans to use aerial shooting to cull 90 per cent of the feral horse population following a public campaign by NSW Deputy Premier John Barilaro in 2018, and it created the Wild Horse Heritage Act that vetoed shooting.
The Invasive Species Council advocates for all the horses to be culled and removed from the high country.