At St. Peter's Basilica, the 200 or so faithful allowed to attend looked lost in the cavernous cathedral. Normally, thousands would be at the Mass celebrated by Francis, and more than 100,00 would sometimes assemble outside in St Peter's Square to receive his Easter blessing afterward.
But this year, as in 2020, crowds are banned from gathering in Italy and at the Vatican. Francis delivered his noon Easter address on world affairs from inside the basilica, using the occasion to appeal anew that vaccines reach the poorest countries.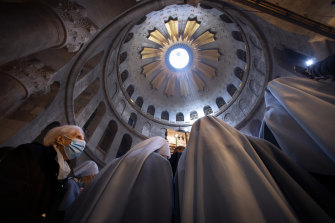 The pontiff sounded weary as he noted that pandemic measures have affected religious holiday traditions and kept some faithful from public worship.
"We pray that these restrictions, as well as all restrictions on freedom of worship and religion worldwide, may be lifted and everyone be allowed to pray and praise God freely," Francis said.
Intent on tamping down weeks of surging infections, the Italian government ordered people to stay home for the three-day weekend except for essential errands. Premier Mario Draghi's government did allow one visit to family or friends per day in residents' home regions over the weekend, which includes the national holiday on Monday.
Italy permits religious services in the pandemic if capacity is limited and masks are worn. But early on, the predominantly Roman Catholic country's many churches were open only for individual prayer.
In Syria, where a national vaccination program has yet to begin, churchgoers in the Lady of Damascus Church prayed for a way out of the economic and political crisis, only worsened by the pandemic.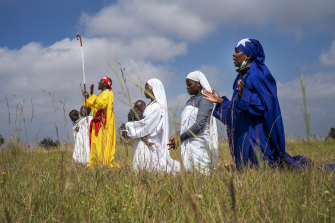 "We came to the church for Easter so we get rid of the pandemic that we are in," said Bassam Assaf. "Of course, we are not scared of coronavirus. It is the reality that we face, but it cannot stop us from coming and praying to God to take us out of this ordeal and help the world."
Some Pentecostal Christians in South Africa cancelled a three-day retreat starting on Good Friday. On the hills overlooking Soweto, a Johannesburg township, Apostolic Pentecostals gathered in small groups Sunday to mark Easter.
In South Korea, Yoido Full Gospel Church, the country's biggest Protestant church, allowed only about 2,000 people to attend Easter service, or about 17 per cent of the capacity of the main building. Masked worshippers sang hymns and prayed as the service was broadcast online and by Christian TV channels.
AP