As a long-time bird lover, I was bemused to read about the tale of Basil the brush turkey – and aghast that his destructive antics had one Sydneysider googling "brush-turkey recipes", and "what do brush-turkeys taste like".
I think we need to pause before we give Basil and his friends for the turducken treatment, or add brush turkey to the challenge list for MasterChef. As someone one who shares his neighbourhood with several turkeys (some even of the bird kind, ho ho), I would like to say brush turkeys are not fit for your Sunday roast. Indeed, they are to be admired for adding to the rich tapestry of Sydney's wildlife.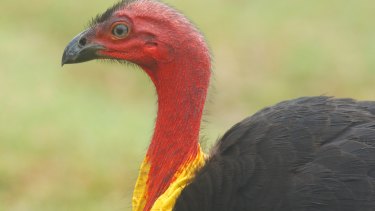 Yes, I know not everyone loves them. I know they play holy terror to people's backyards. I've even had acquaintances who have been forced into epic battle of wits to prevent them from building nests in their yards. They can be troublemakers. But magnificent troublemakers, nevertheless.
With their noble bearing and lack of fear of humans, they are among nature's aristorcrats, much like the much-maligned ibis. Are they haughty? No. I believe they are merely proud.
Does it not give your soul a little tickle to see nature's fine specimens intrude into our city lives?
Indeed, one could say that the prevalence of bush turkeys in our suburbs is a sign that we have intruded too far into the domain of nature. Humans have also intruded – and, indeed, desecrated – the wetlands that ibises call home. Should we then object when they try to find a home among us?
Loading
I was delighted a few months ago to spy a tiny creature on my street that resembled a small quail. It was a baby brush turkey, who, abandoned by its parents at birth as is the fate of all brush turkeys, was attempting to fend on his own.
I feared for its safety for months. Yet I later saw my formerly tiny friend, now larger and boasting a distinctive tail, clashing with the other turkeys of the neighbourhood (yes, once, again, I'm talking about birds, not humans). The sight filled my heart with joy.
So no, brush turkeys don't deserve to be made into casseroles or quiches. I like to think no hatted restaurant would dare serve you brush turkey as the special of the day. Nor do I want to see Basil and co made into a Sunday roast or paired with a refreshing cab sav from the Hunter Valley.