Businesses would be encouraged to invest in large capital projects in regional parts of Australia under a federal budget plan from BHP that the mining giant says would help the country navigate post-pandemic economic headwinds.
In an unusual move, BHP has made its own submission to Treasurer Josh Frydenberg ahead of next month's budget, arguing for a regional investment allowance that would be contingent on companies committing to local jobs and a minimum level of spending.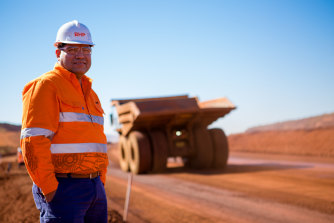 It is also pressing the government to create a skills program under which large employers would support nationally recognised apprenticeship and traineeship programs.
Traditionally, companies such as BHP have used peak groups including the Business Council and the Minerals Council to make their argument for particular budget policies. But BHP has increased its public policy presence in recent months, separate from other major businesses.
BHP's Australian minerals president Edgar Basto said the country was well-positioned for a strong economic recovery but this would need policies that boosted investment and employment.
"The strong partnerships between communities, industry and government that have helped us through the pandemic to date will be just as critical in the transition from response to recovery," he said.
"The policy measures we have identified aim to benefit Australia through jobs, investment and economic growth, particularly in regional economies and communities."
The budget, which in the mid-year update was expected to show a deficit of $197.7 billion this year and then $108.5 billion in 2021-22, is recovering even faster than forecast in part due to surging iron ore prices as well as the economy's stronger-than-predicted performance.
At the end of March, this year's deficit was $23 billion in front of expectations.