He said he had inherited the property from his father only three years ago, had since been working in Western Australia and had not known which stones were sacred.
He issued an apology and said he wanted to work with Aboriginal people to replace every stone in its rightful place.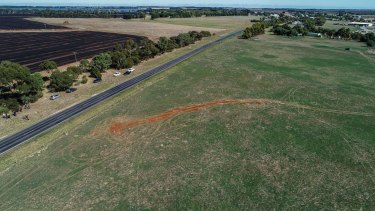 "We deeply regret the upset and the pain we have unconditionally caused to many people and we would welcome the assistance of the Eastern Maar Aboriginal Corporation in the restoration of these stones," he said.
But traditional owner John Clarke said he would not meet Mr McMaster to discuss the matter.
"There has to be a due process now," Mr Clarke said, referring to the investigation by Aboriginal Victoria.
The Aboriginal Heritage Act states that knowingly causing damage to an Indigenous heritage site can attract fines of up to almost $300,000 for an individual and $1.6 million for a corporation.
"We don't want to preempt or undermine that process," said Mr Clarke, who is the general manager of biocultural landscapes for the Eastern Maar, representing the traditional owners.
"It's well known among the whole community of this area that the stone arrangement exists and it's been on the official register as an Aboriginal place for decades.
"To be honest, I didn't believe that this could have possibly happened when I was told at the weekend. It's a traumatic experience. I was in shock."
The stones have not been dated by archaeologists but Mr Clarke said the incident was equivalent to removing stones from Britain's Stonehenge.
Loading
Lake Bolac-based singer-songwriter Neil Murray, who has taken a keen interest in the rare stone formation since the 1990s, said the "eel" had a clear ceremonial relationship with the ancient reliance upon eel farming among Aboriginal clans of the area.
"It's an exquisite, elegant thing," he said.
Before European settlement destroyed the clans, up to 1000 Indigenous people traditionally gathered each autumn as Lake Bolac overflowed and eels were released into Salt Creek, which connects to the Hopkins River and eventually, the Southern Ocean, Mr Clarke said.
Eels were harvested for feasting. It was likely the stones, known as the Kooyang Stone Arrangement, were the site for ceremonies to ensure a bountiful harvest.
In the 21st century, Lake Bolac's main annual drawcard remains its annual Eel Festival, featuring art, music and culture.
The property upon which the stone "eel" sits has been owned since 1860 by the McMaster family.
But Adrian McMaster, who was raised in Werribee, said he had not lived on the Lake Bolac property until he inherited it after his father died three years ago.
He was aware that his father had taken steps 30 years ago designed to ensure that Aboriginal people could take care of the stones. Since then, he said, the arrangement had simply sat untended in a paddock, which he said was a fire hazard when it became overgrown.
Mr McMaster said he had not known which rock in the stony paddock was sacred and which was not.
"A lot of knowledge went with my father when he died three years ago," he said.
Start your day informed
Our Morning Edition newsletter is a curated guide to the most important and interesting stories, analysis and insights. Sign up here.
Tony Wright is the associate editor and special writer for The Age and The Sydney Morning Herald.
David Estcourt is a court and general news reporter at The Age.