The expectation is James McDonald gets the pick of the rides on the first day of The Championships, but good barriers are just as important for the premier jockey's two group 1 favourites and Australian Derby second-pick Sky Lab.
McDonald was happy with gate 12 for Avilius in the Doncaster, which is a $15 outsider, and six for Sky Lab in the Derby was good, but when he heard gate five for TJ Smith favourite and defending champion Nature Strip, and also for Sires Produce Stakes punters' pick Anamoe, he just smiled.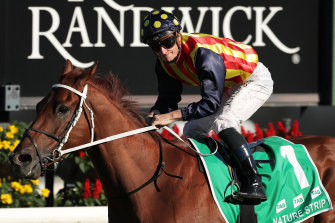 "That's beautiful," McDonald said. "What did Eduardo draw?" he asked of his main rival in the TJ Smith. The reply came as barrier eight. "That will do," he said.
McDonald will play a major role in the group 1 races on Saturday and it is why Godolphin sought him out for Anamoe and Avilius in the Doncaster.
"I'll get a little anxious later in the week, but if you're not doing that you shouldn't be in the game," he said. "This is our time to shine, and when you're riding these sorts of horses, you want to do your part.
"The good barriers help, all I would like now is a bit of rain because a soft track is going to help all of mine."
McDonald dominated the TJ Smith on Nature Strip last year, but it will be a different race against Eduardo this time, which showed he could go with the star sprinter and beat him in the Challenge Stakes in a track record last month.
"It's been a beautiful preparation this time. He is moving well, he is moving so well," McDonald said of Nature Strip.
When McDonald goes quiet, it usually reflects confidence. "Nature Strip is definitely not going any worse than when he won this race," he said.