The corporate watchdog is suing Westpac for allegedly misselling consumer credit insurance to 384 customers.
ASIC this morning said Westpac in 2015 sold add-on insurance products – including credit card repayment protection and flexi-loan repayment protection policies – which customers had not requested or agreed to acquire.
ASIC is seeking declarations and pecuniary penalties from the Federal Court.
Westpac this morning acknowledged the proceedings and was "carefully considering these claims and is committed to working constructively with ASIC through the Court process".
Westpac has not sold CCI products since 2019.
This morning's announcement comes after the nation's second-largest lender on Wednesday told investors a plan it has developed in response to a court-enforceable undertaking was approved by the banking regulator.
Westpac, which was forced into an enforceable undertaking last year, on Wednesday said it had been required to submit an "integrated plan" outlining its plans for fixing risk governance problems.
Westpac said it had hired the consultancy Promonotory to provide quarterly assurance on how the bank was improving its governance and risk management.
Leading mortgage brokers say banks are cautiously taking the brakes off home lending and removing extra checks on borrowers that were introduced at the height of the coronavirus pandemic.
The trend comes amid an ongoing surge in new lending, but brokers say they are not seeing a rise in high-risk borrowing, and nor do they believe regulatory caps on home lending will be introduced anytime soon.
With house prices growing at their fastest pace since the late 1980s, the quality of bank lending is under the microscope. Regulators have repeatedly warned they do not want to see a deterioration in credit underwriting standards, noting they could intervene if needed.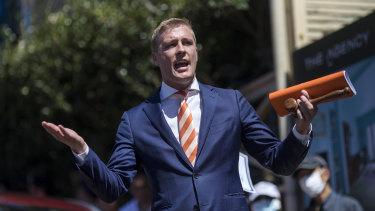 Several brokers including Commonwealth Bank's Aussie Home Loans and its merger partner Lendi said banks had become less conservative compared with the height of the pandemic last year.
Aussie chief executive James Symond said after banks "pulled in their horns" during the peak of the pandemic, they were now taking a more "commercial" approach to credit assessments.
"We are seeing a more balanced approach by the banks. We are seeing less conservatism, but much thought being placed in every single customer application," said Mr Symond, who also predicted property investors would increasingly come into the market over the next 12 to 18 months.
Wall Street capped another choppy day of trading with a mixed finish for stock indexes and another all-time high for the S&P 500.
The benchmark index inched up 0.1 per cent after spending much of the day wavering between small gains and losses.
Technology, communication and financial companies helped lift the market, offsetting a pullback led by industrials, materials and health care stocks. Treasury yields were also mixed.
The broader market has been mostly subdued this week as investors remain cautiously optimistic about the economic recovery.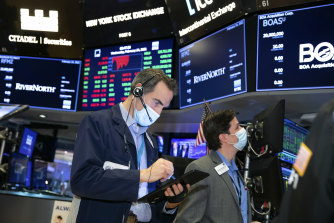 Vaccine distribution has been ramping up and President Joe Biden has bumped up his deadline for states to make doses available to all adults by April 19.
The vaccines are helping to fuel a recovery, but the virus is still very much a threat as variants are discovered and threaten additional lockdowns.
The S&P 500 rose 6.01 points to 4,079.95. The Dow Jones Industrial Average gained 16.02 points, or 0.1 per cent, to 33,446.26. The Nasdaq composite slipped 9.54 points, or 0.1 per cent, to 13,688.84.
Small-company stocks, which have been outgaining the broader market this year, took the brunt of the selling. The Russell 2000 index of smaller companies gave up 36.10 points, or 1.6 per cent, to 2,223.05. The index is up 12.6 per cent so far this year, while the S&P 500, which tracks large companies, is up 8.6 per cent.
Analysts expect the economy to recover this year, but they also anticipate the market to remain choppy as investors shift money to companies and industries that stand to benefit as the pandemic eases.
AP
ASX futures up 36 points, or 0.5 per cent, to 6935.0 at 8.30am AEST
AUD at 76.13 US cents
Wall Street: Dow +0.05%, S&P500 +0.15%, Nasdaq -0.07%
Spot gold flat at $US1737.76 an ounce
Brent crude +0.4% to $US62.99 a barrel, US oil +0.4% to $US59.54 a barrel
Iron ore +1.6% at $US173.63 a tonne
10-year yield: US 1.67%; Australia 1.74%; Germany -0.33
Bitcoin +0.3% to $US56,419.25
Good morning folks, and welcome to Markets Live.
Alex Druce is in the chair again today and raring to go. Drop him a line in the comments if you spot something interesting.
The ASX is expected to build on yesterday's 13-month high, even after a mixed session overnight on Wall Street.
Iron ore and oil improved, while gold and Bitcoin were flat.
This blog is not intended as financial advice.