Garcia was further angered by a series of refereeing decisions in the match, most notably a non-penalty call in the 25th minute when Paulo Retre appeared to take out Carlo Armiento's legs in a challenge while missing the ball completely.
It was not given by Kersey and, despite the seemingly clear evidence, the original decision was upheld by the VAR, Kris Griffiths-Jones.
"Stonewall penalty. In every league around the world, including this one, that is a penalty. Changes the whole game," Garcia said.
"VAR check it – they're saying they did, who's running VAR? It's a penalty every day of the week.
"No explanation for the decisions. This is a tough place to come, it's hard enough coming here against a good team, let alone when there's conflicts of interest all throughout the league. It is what it is."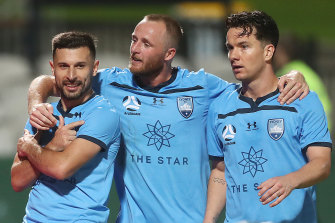 Pressed further on what he meant by conflicts of interest, Garcia said: "I'll let you take what you want from it."
The result leaves Perth back in ninth spot on the ladder, seven points behind sixth-placed Western Sydney Wanderers, while Sydney FC have moved to fourth – five points adrift of leaders Central Coast Mariners, with a game in hand.
Kosta Barbarouses scored the decisive goal in the 54th minute, unleashing a low drive at goal from the right side of Sydney's attacking penalty box after being fed a pass by Alex Baumjohann.
The Kiwi's shot took a deflection off a defender, skidded off the greasy turf and squeezed underneath the torso of Glory goalkeeper Liam Reddy.
It was Reddy's only blemish in an otherwise brilliant performance from the veteran, who produced a string of terrific saves in the first half – including a world-class diving stop to deny a goal-bound header from Bobo.
Loading
"Liam was exceptional, but there were a lot of exceptional performances tonight," Garcia said. "When things go against us, they really do go against us, and they definitely went against us tonight in every single sense of the word."
Whilst deserving of the win, the Sky Blues have been the A-League's poorest team in front of goal this season and will be grateful this wasn't another night of squandered opportunities.
Coach Steve Corica said he felt for Garcia and understood why he was so frustrated about the way the game ended.
"Of course you would be. When there's a couple of minutes left in the game you always think you can get a goal. But the rules are the rules," he said.
"We were in control of the game. They were chasing it towards the end there but we defended really well and played well. I thought we were very good and created a lot of chances."
Vince is a sports reporter for The Sydney Morning Herald.