Mr Barilaro, who is due to announce the Nationals' candidate for the Upper Hunter byelection on Thursday morning at a coal mine, told the Herald pollution figures "have been misinterpreted by anti-mining propagandists who are cherry-picking one-off measurements to suit their agenda".
Loading
"Air quality in the Upper Hunter has improved over the past six months," he said. "Daily [particulate] levels in Muswellbrook and Singleton have been within the national benchmark for 99 per cent of the time during Spring 2020.
"As a consequence of the standardised hourly reporting, short term peaks do occur but these statistical outliers are the exception rather than the rule."
The future of coal mining has already become a focal point in the Upper Hunter byelection set for May 22 following the resignation of Nationals MP Michael Johnsen over a rape allegation which he denies.
"Coal jobs and air pollution will be the big issues," said Bob Vickers, a Singleton GP who argues agencies such as the NSW Environment Protection Authority should be doing more to force power plants to scrub toxic pollutants – such as sulphur dioxide and nitrogen oxides – from the smoke stacks.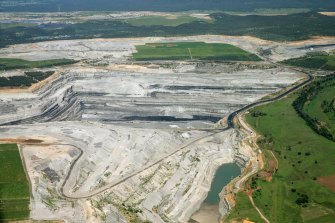 Coal mines should also be slapped with stop-work orders when pollution alerts are issued, he said.
"We know what the sources of the pollution are and we know what the methods are that we can take to fix it," Mr Vickers said.
Mr Vickers said another concern was that coal mines defer rehabitation of their pits by seeking extensions of their operations.
With coal demand likely to decline over time, many of them won't have the funds necessary to repair their voids, leaving the community at risk from the resulting dust and other particulate pollution, he said.
The Herald approached the NSW Minerals Council for comment.
Peter Hannam writes on environment issues for The Sydney Morning Herald and The Age.
Most Viewed in Environment
Loading