Several other requests for a dog made by Ms Chang over text were given as evidence in court. In one instance, she texted "[Heart emojis]. Buy me a dog lol" to which Mr Chow replied "Lol [laughing emoji] yes madam".
Later, she said "I just want a dog [kissing and puppy-face emojis]" to which Mr Chow replied: "[Kissing emoji], I know."
Mr Chang eventually agreed to buy a dog, writing: "Can you stop being a pain in the bum bum [sic] and get us a god damn cutie dog".
According to the court judgment, Ms Chang was asked in cross-examination why she had not bought a dog herself. She responded that she could not afford it and that Mr Chow earned four times what she did.
The court heard that Ms Chang left her full-time job a month after getting Kobe from the breeder to become his primary carer, which included taking him to the vet. Both Mr Chow and Ms Chang told the court that they taught Kobe tricks.
As part of her evidence, Ms Chang provided a receipt from the breeder in her name. She also provided council, pedigree and microchip registration documents listing her as the owner.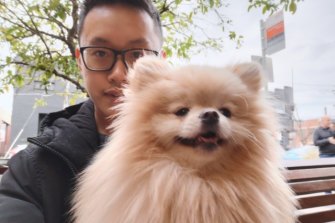 Mr Chow claimed that he had legal ownership of the dog because he paid the money to the breeder and that Ms Chang had the "right to use and enjoy the dog" while they were in a relationship.
Ms Hoare handed down her judgment in February, saying she didn't accept Mr Chow's evidence that he bought Kobe because he wanted a dog, citing the text messages that showed his reluctance.
"The weight of evidence, particularly of Ms Chang and corroborated by the content of the contemporaneous text messages such as 'buy me a dog lol' and 'bday gift please', satisfied me that, as a matter of fact and law, Mr Chow purchased the dog with the intention of gifting it to Ms Chang," she said in her judgment.
Ms Chang told The Age that the court had made the right decision to declare her the owner.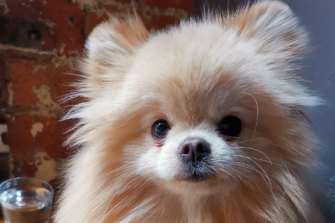 "I have invested a lot of time looking after him and training him, essentially he's my baby," she said.
"Which is why I spent the time and effort to go to court — I didn't want to lose him."
Loading
While he did not agree it was right, Mr Chow said that he would not appeal the decision.
He said he missed Kobe every day.
"Despite whatever the court says, I still think that dog should be mine," he told The Age.
"He is amazing. He's fast for his size, he's brave and he's very playful."
Start your day informed
Our Morning Edition newsletter is a curated guide to the most important and interesting stories, analysis and insights. Sign up here.
Tom Cowie is a journalist at The Age covering general news.