Victoria's acting Police Minister, Danny Pearson, said on Wednesday that 106 returned travellers would arrive in the state on flights arriving from 4.30am.
The other hotels ready to be used are the Novotel Ibis at Melbourne Central, the Pan Pacific at the Convention Centre, the Holiday Inn in Flinders Lane – a health hotel reserved for COVID-positive travellers – and the Element Melbourne Richmond in Swan Street, which will function as a complex-care facility.
COVID-19 Quarantine Victoria Commissioner Emma Cassar said the restarted program would be reviewed daily to ensure all recommendations from the most recent review of the hotel quarantine scheme had been implemented.
Key features of the new hotel quarantine system
Residents to be tested four times during 14-day stay, instead of twice.
Staff in hotel "red zones" fit-tested with high-protection N95 masks.
Online system for easier contact tracing of hotel quarantine staff and their households.
Memorandum of understanding with the Department of Health to clarify roles and responsibilities 
Independent ventilation assessment undertaken at all quarantine hotels.
Arrivals to be capped at 800 a week, scaling up to 1120 by April 15.
Staggered meal times, room buffers and enhanced screening of prohibited devices in luggage.
"We have done everything we can to make this as safe as we can, and will continue to ensure that the program keeps ahead of this virus," Ms Cassar said on Wednesday.
"It isn't a risk-proof program, we've been clear on that, but what we can do is ensure that we are … looking at the research and looking at what else we can do or other control measures that we need to put in place."
In late March, Healthcare Australia lost paperwork, an email said, and was unaware which staff had the required training in swabbing for coronavirus tests. In the email, a Healthcare Australia manager asked staff to urgently resubmit paperwork detailing whether they had received training.
A spokeswoman for the company said the paperwork was not lost. She said the documents existed in hard copy but could not be uploaded, causing confusion among staff.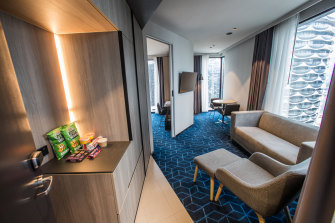 Asked about the issues raised in its internal emails, Healthcare Australia said the company "abides by the conditions of site exclusivity specified in its contract with [COVID-19 Quarantine Victoria] and confirms that site exclusivity is maintained".
"Any doctor seeking to work outside the designated quarantine hotel to retain relevant qualifications requires specific approval from CQV," the spokeswoman said on Wednesday.
"We assure the Victorian public that practical competency training is mandatory for all our staff and that staff observe the strict COVID health protocols at all times."
Healthcare Australia's chief executive stepped down in February after an investigation found the company misled the federal government over the qualifications of a doctor who gave the wrong vaccine doses to patients in Queensland.
In February The Age revealed doctors and nurses employed by Healthcare Australia had been working across multiple quarantine hotels and offices.
The Coate inquiry into Victoria's hotel program recommended employees operate exclusively at one hotel to minimise the risk of infection, and the Andrews government has repeatedly insisted staff only work at one site.
All staff working in hotel quarantine have received at least their first dose of COVID-19 vaccine. Ms Cassar said those unwilling or unable to get the vaccine would be offered other roles within CQV if possible.
Members of the media were given a guided tour on Wednesday of the Four Points by Sheraton in Docklands, which will be used for quarantine once minor works are completed.
Staff will be grouped together depending on their roles and must work in particular areas of the hotel. Those entering "red zones" – where the guests stay – have been fit-tested with N95 masks and must wear full personal protective equipment, including face shields.
Resident support officers, who work on hotel floors where guests are staying, remain in full protective gear and are rotated every 60 to 90 minutes to prevent fatigue and dehydration. They are not allowed mobile phones or books on their shifts and have been ordered to walk the hallways to ensure they can hear through the doors if someone is in distress.
When travellers unexpectedly enter or exit their rooms – such as for medical emergencies or to be transferred to hospital – staff are notified via loudspeaker announcements, text messages and lights.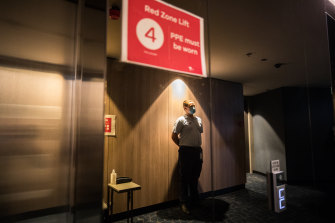 Each hotel has an approved outdoor space for guests that is assessed for security risk, including whether it allows people to flee.
Travellers must apply each time they need to visit this space and approvals are only given for medical reasons. They are escorted to the space and are only allowed to remain there for 30 minutes.
Ms Cassar said applications were rarely made to use this space and most guests remained in their hotel rooms for their 14-day quarantine period.
Victoria recorded no new local cases of coronavirus for the 40th day in a row on Wednesday.
Paul is a Victorian political reporter for The Age.
Sumeyya is a state political reporter for The Age.