Racing Victoria said it would be considering "a wide range of candidates" for the job.
"Racing Victoria's integrated media business (IMB) will bring together our media assets, operations and partnerships into one business to maximise opportunities for the coverage and promotion of Victorian thoroughbred racing and engagement with fans," an RV spokesperson told The Age.
"This will include Racing Victoria's majority owned media assets and partnerships, including the existing racing.com business.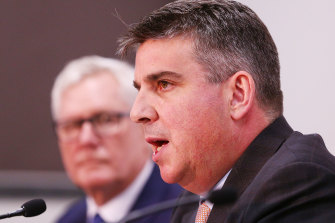 "The IMB Board, which is made up of RV, industry and independent directors, has now commenced the process to appoint a chief executive.
"This process is being managed by an experienced executive search firm who have been engaged to support the IMB Board as it considers a wide range of candidates for this appointment."
Loading
Not only will the IMB manage the operational aspects of Racing.com and its other publications, it will also manage media distribution and supply partnerships.
Executive search firm Alex Kaar on Tuesday advertised for CEO applications on behalf of a "well recognised sports media organisation".
The advert, posted on LinkedIn, says the organisation is seeking a CEO "who will focus on driving stronger fan engagement and as consequence, improved commercial returns".
"With accountability for content, publishing, digital and broadcasting you will focus on maximising reach and distribution through delivery of innovative solutions in media services, relationships and rights management to create and retain value," the advert says.
The advert was liked by Racing Victoria's chief executive Giles Thompson and chief operating officer Aaron Morrison.
Racing Victoria's desire to restructure its media business was made clear at its most recent annual general meeting, as the industry looks to capitalise on increased engagement over the COVID-19 period.
"We're quite fortunate in Victoria that we control a large part of our media world," Thompson said at the AGM.
"If we talk about things like on-demand type products and the type of content we can deliver to our punters and viewers as well, we have a great opportunity in that space, and for me, that's the next few years, to bring together an integrated media business and really try and drive engagement in our sport, which has lots of direct and indirect benefits for us, is a real opportunity for us and it's accelerated because of COVID."
While Racing.com missed out on a bid to add Queensland racing to its free-to-air coverage last year, it signed a seven-year deal for the rights to South Australian racing back in 2017, signalling its intent to broaden its coverage.
In the job advert, Alex Karr said it was proud to be partnering with Racing Victoria's new integrated media business "as it positions for growth and stronger penetration of current and new markets".
*Correction: An earlier edition of this story reported that radio station RSN would be part of the Integrated Media Business. This is incorrect. RSN is part-owned by the three racing codes and will remain its own entity in the foreseeable future.
Damien Ractliffe is the Chief Racing Reporter for The Age.