It may have come as a shock to some corners of the AFL universe, but a bemused Nick Blakey says the sudden rise of the Sydney Swans hasn't exactly come out of nowhere.
It is, he says, the natural culmination of a carefully charted plan by the club to change their style of play and return to finals contention – one that Blakey and two other teammates have committed to seeing through for at least the next few years.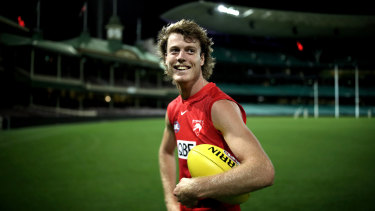 Blakey, James Rowbottom and Chad Warner, three of the Swans' best and brightest young talents, have all signed contract extensions.
Blakey, 21, has penned a new deal that will keep him in red and white until the end of 2024, describing the move as the biggest "no-brainer" of his time in the game.
Rowbottom has also signed on until 2024, while Warner, who this week became the third consecutive Sydney player to earn an AFL rising star nomination, will remain until 2023.
One of several academy products in John Longmire's side, Blakey began his senior career at the Swans in 2019, the first year they failed to make the eight in a decade.
A swift return to the finals looms this season, having captivated the AFL world with stunning wins over top-four sides Brisbane and Richmond in the first three rounds, powered by an exciting, direct and clinical style of play that many have contrasted with the dour, defensive stereotype of the Swans under Longmire and Paul Roos.
"We were confident going into the season," Blakey said.
"Obviously, if you'd have said we'd be 3-0 we'd be stoked versing Richmond and Brisbane already. We always thought we'd be really competitive against those teams, but it was still an unknown … it's still early and we've got a lot of work to do still, but to turn the tables a little bit this year, we're very happy."