Thanks for following along everyone. Great game tonight which was another step forward for the Bombers, and the Swans too.
We'll be back tomorrow night for Port Adelaide v Richmond.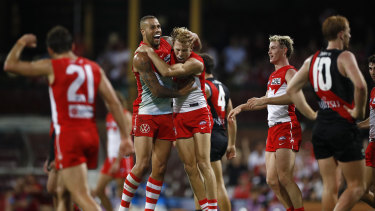 "Proud of the group is certainly the way I'm feeling," he said. "Certainly disappointed and the players are shattered about the result. We are here to win and disappointed about that. But the character, the grit, the determination the guys showed right to the last second, you know, in a short break, travel all those things, it's character building for our group. But disappointed with the result.
"We were trying to be pretty tight on our defence and I think we did that pretty well. It was – I think the main part of today it was a really tight contested game. High pressure contest to contest, which Sydney have been very strong at that for a long time.
"At half- time, I think they might have kicked five or six in a row to get back to about level pegging. So that was an area that we looked at as a group … our stoppage stuff, our contested work we still got beaten pretty badly by Sydney tonight.
"The guys are really determined to get better and I think they're really clear on where we're going as a footy club. They're driving it. The players are the ones turning up every day. It's a reflection of how they've been showing up during the week and they've shown up for each other out on the field tonight. They played hard together. They're disappointed tonight, which shows the amount of effort and care they have got for each other but they want to take this footy club forward. Tonight built some character and showed some real grit and determination."
"Their pressure rating in the last quarter was through the roof," Longmire said. "To their credit they were pretty good. We certainly didn't kick very straight, which hurt us a little bit on the scoreboard. When a team comes in and has 36 tackles in the last quarter, you have to do a lot right to win when it was so close at three-quarter time.
"To withstand that and be able to do what we needed to do, whether it was run or whatever, and find a way was run or whatever, and find a way was a really good sign.
"It's important for a young team to be able to win – it's really dewy, wet conditions for most of the night but particularly after half-time there was a lot of water on the grass. And pretty slippery.
"So when you've got a team that is in opposition going really hard at it, like they did and then still finding a way, we've got a few things wrong at times and we can get better at a few things. But I think that is a good thing, that we can still find a way and hopefully that gives some players some confidence."
Lance Franklin has come back to haunt Essendon once again, kicking the decisive goal to seal a thrilling three-point win for Sydney on Thursday night and continue their miraculous start to the AFL season.
It was all up for grabs in a tense, scrappy final term at the SCG, where the ball spent most of the time locked up in Sydney's forward 50 – but the hosts were unable to land the killer blow, with Luke Parker, Tom Hickey, Tom Papley and Nick Blakey among those guilty of missing easy chances to stretch their lead.
Click here to read the full match report from tonight's game
"I think they've bought some energy," he tells Channel Seven. "We've asked them to go out there and play their role. I think the rest comes from there. They know their strengths. They're coming in, not trying to do the fancy stuff.
"They're getting the work done and the forwards are getting their work done and the individual brilliance is shining through. They are owning that team- first mentality and each week there is a different bloke standing up and it makes it easier for the older blokes to share the loud.
"I think Don's [new assistant coach Don Pyke] been fantastic. We focus a lot on both sides of the ball. For us, our defence has always been the backbone of our brand of football. And it's basically how we turn our defence into attack this year and we've been able to spread the ground really well.
"We have guys who are lightning quick on the outside. For us, it's a different look. We are spending more time in our half and inside 50s. Our aim is to basically continue to keep pressure on the opposition in our forward 50."
Should Hickey have been pinged holding the ball? Note, ruckmen are no longer automatically pinged when they grab it from the ruck and are tackled.
That is, they have the same prior opportunity as every other situation on the ground.
He kicked what ended as the winner:
"It was a super effort," he told Channel 7. "They played some pretty good football this year and we knew they were going to come out and have a good crack. They stepped it up tonight. Grinding games out is really good. It's a positive thing. We have such a young team but to follow through that and win is a good sign.
"It's always good winning. It's obviously been a struggle in the last two years but I think it's so exciting obviously being one of the older footy clubs it's great to see the young kids come in.
"I think it was initially that was always the plan, to play one, miss one, and away we go from now which should be good."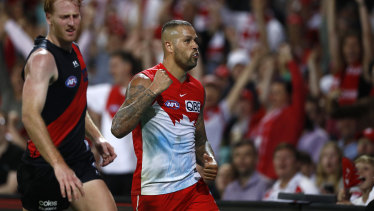 Great work from McDonald-Tipungwuti and then Hooker gathers and snaps without looking. Amazing game.
SYD 82 ESS 80 with one and a half to play
He puts the Swans up by nine points with two and a half minutes to play.
McInerney unreal run down the wing, and the kick was good too. Buddy juggles the mark, and converts.
SYD 82 ESS 73