Still, it was an amazing performance when so many top players were struggling, such as Johnson. Rory McIlroy also struggled to a 76. Long-hitting Bryson DeChambeau was four over with three holes to play.
Rose, on the other hand, turned in the best score of his Masters career, His previous low was a 67.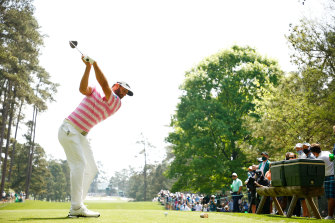 Among the Australian contingent, Marc Leishman had an even-par 72 in his first round, 2013 Masters winner Adam Scott was one over through 13 holes, Matt Jones finished with a two-over 74, last year's runner-up Cameron Smith was two over through 13 holes, and Jason Day finished with a horror five-over 77.
With the wind howling at times and greens that were about as slick as a kitchen table, this was a much different course than the one Johnson shredded five months ago.
"Definitely a lot tougher just because, when the greens are firm and fast here, the golf course plays difficult," Johnson said. "Then you add the wind in today, it made it play really difficult."
The 2020 Masters was delayed because of the coronavirus pandemic, neutralising many of Augusta's natural defences.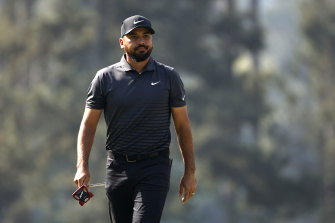 The wind was benign and the greens were softened by rain, setting up Johnson to post the lowest score in tournament history with a 20-under 268. Johnson led from start to finish on his way to a five-stroke victory.
If Johnson is to become only the fourth player to win back-to-back titles, he'll have to take a different path.
Loading
"I felt like I hit a lot of good shots that didn't end up in good spots, just from misjudging the wind a little bit," he said.
Johnson should have plenty of chances to close the gap over the next three days.
He's certainly not feeling any additional pressure as the defending champion.
"If anything, I'm a little more relaxed out there," Johnson said.
"Obviously, the last hole kind of stings a little bit. But I'll go to the range, hit a few balls. I feel like I'm swinging well, playing good. I'm looking forward to the rest of the week."
AP