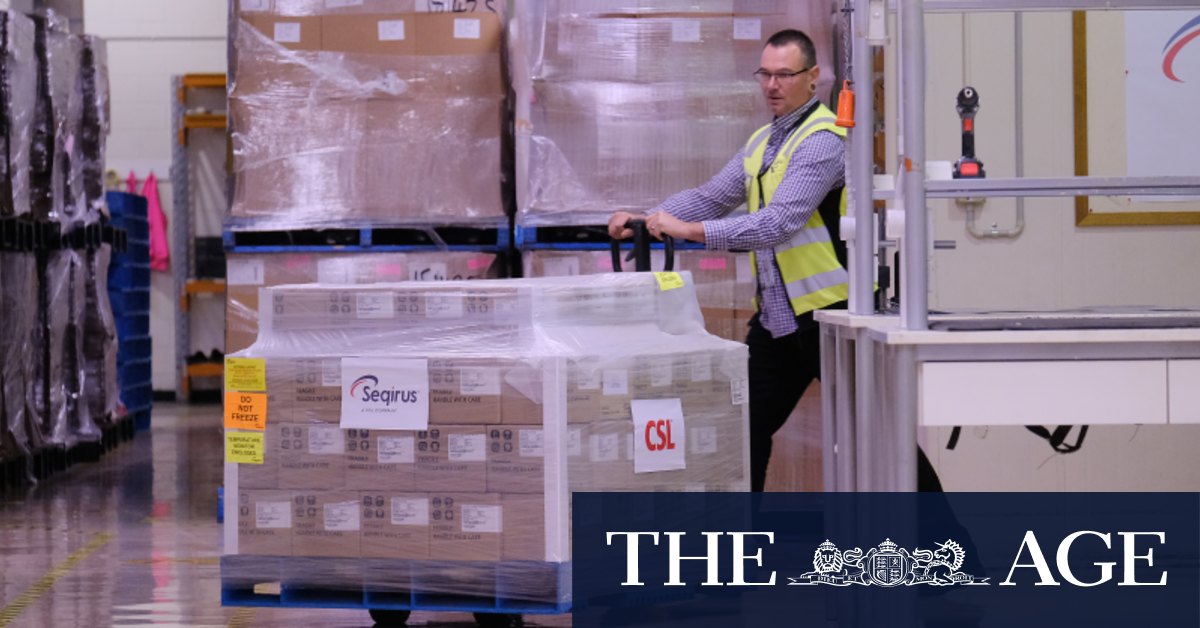 Asked whether CSL would be asked to provide fewer doses and if it could ultimately manufacture the Novavax vaccine, Health Department Secretary Brendan Murphy told Thursday's press conference: "All options are on the table".
"Clearly we still have a big need for AstraZeneca," Murphy said.
"It is going to be a really important vaccine to vaccinate a significant proportion of the population. So CSL will continue to make AstraZeneca. We will be reviewing with them over coming months just what the output will be."
When Murphy finished answering, Morrison said: "So in short, yes."
However, in a statement CSL said it remained committed to "meeting its contracted arrangements" with the Australian government and AstraZeneca.
"We will continue our focused and important efforts to manufacture this vaccine which remains critical for the protection of our most vulnerable populations," a company spokesperson said.
Loading
"We are proud of our unique role in Australia as the only onshore manufacturer that can produce this vaccine and remain dedicated to our ongoing contribution towards this effort."
CSL has previously said it was impossible to make Novavax alongside AstraZeneca for logistics and safety reasons. But the company has said it could consider a request once it had finished manufacturing AstraZeneca doses.
Reconfiguring the CSL's Broadmeadows plant to make the Novavax product would likely take months and is considered an unlikely option even though the government is keen to have as much domestic production capacity as possible.
Murphy said the government would "explore with Novavax if there are any options to manufacture onshore".
Comment has been sought from Novavax.
The Novavax vaccine is undergoing phase-three trials in the United States and Mexico and will require approval from the Therapeutics Goods Administration before it can be used in Australia.
Health Minister Greg Hunt called Novavax global vice-president John Trizzino on Thursday.
"They remain on track on their advice to us for a likely delivery in the third quarter, commencing then and proceeding from then on," Hunt said.
Novavax has not brought a vaccine to market in its 33-year history.
The antigen component of the vaccine will be produced at a company facility in the Czech Republic, as well through partners in the United Kingdom, Spain, the United States, India, South Korea and Japan.
Another component is being made in Sweden, Denmark and the US.
A European Union official recently told Reuters that the bloc was due to sign a contract with Novavax earlier this year for 100 million doses but the agreement has been delayed because the company was struggling to source some raw materials.
Any exports to Australia of Novavax vaccines made in the EU would have to clear tough export controls set up by Brussels in January. Some 250,000 AstraZeneca doses bound for Australia were blocked under the export approval regime.
Loading
The Australian Technical Advisory Group on Immunisation examined new data from Europe about the blood clot issue on Thursday and handed its advice to the government at 7pm. Morrison and Hunt held the press conference about 20 minutes later.
Morrison said the advice was not a prohibition on the use of the AstraZeneca vaccine in people aged under 50. He said the impact of this decision on the timeline of the rollout was uncertain.
The government is expected to negotiate with Pfizer for more doses to help fill any shortfall created by not using AstraZeneca on the young.
Bevan Shields is the Europe correspondent for The Sydney Morning Herald and The Age.