There will come a point this year when long-suffering Melbourne fans allow themselves to dream. That moment cannot be too far away after the Demons held off a late challenge from Sydney to keep their unblemished record intact. Click here to read Andrew Wu's match report.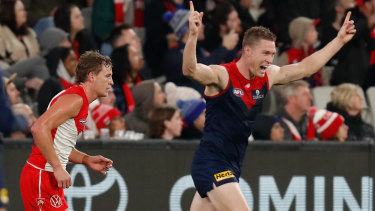 Port Adelaide star Travis Boak spoke in no uncertain terms about what the prison bar jumper means to the Power players
Melbourne coach Simon Goodwin spoke to the media after the game…
Q: They made you work for it. What did you make of it?
A: It was a typical game against the Swans, you know. They're a hard team to play against and that was the way the game panned out. In a lot of ways you look at the numbers and they probably should've won, but just the grit of our boys, the ability to keep finding. I'm really proud of them for that, but from that – it was just the typical game against the Swans. It's what you expect. A real challenge and that's what we got.
Q: You talk about the numbers. The centre clearance in particular. What did you put that down to?
A: It's concerning, isn't it? 17-4. It's probably as big a number as you've seen in footy. And that means you're sucking up a lot of territory. So it's an area of our game that we have to get better. And we'll look at that and learn and get better. But it's important to get that right. You give up a lot of territory and a lot of where you have to move the ball from the back half. That's not how we want to play so we'll look at it close.
Q: I think it was 9-1 at one stage. Did you try several different things and it just didn't work?
A: We tried a number of different things. And it didn't work for us. But we've got some leaders in there. 'Gawny' (Max Gawn) would have a really good look at it along with our midfield coach, some senior guys and go away and rectify it. It's an area we have to get better at. It's a big part of our game and a big part of a lot of teams' games.
Q: First time we've seen a full game with Ben Brown and Tom McDonald together. Seven goals, must've been thrilled with that?
A: I think the scoreboard impact said a lot. It wasn't just the scoreboard impact. They kicked goals but I thought their pressure inside forward 50 when it was down there was very good. I thought both competed incredibly strongly and it's full credit to them. They're big guys. They move well. But our ability to continue to put pressure on was still strong, and that's our expectation for anyone that plays in our team.
Q: Obviously Tomlinson, big out. How did you see Petty fitting in tonight into that defensive mix?
A: I thought Petty was OK. He's going to keep getting stronger and stronger. It's a really important role for us. First game, doing it this year, you know, in terms of that role with May an Lever. We were really happy with him. He will settle into AFL footy the next three or four weeks, will you see him improve as a player? We're confident he will be a substantially good player for us.
Q: Has winning become a habit for your team now?
A: Oh, winning is important. So we want to create a culture where winning is a thing that we take great pride in and winning creates winning. I think you see at the moment the resilience in the group, the grit, the will to win is strong, and that's got to remain. So the more you win, the more challenging it gets. Teams come at you in different ways. And we have to absorb that and find ways to keep getting better. We speak about centre bounce. We speak about other areas of our game that we have to keep improving on because that's what the competition demands – that you keep improving, keep getting better. All clubs will keep getting better. All clubs will keep getting better as the year goes on.
Q: You're under pressure, there's James Jordon's run-down tackle on Rowbottom on the wing, McDonald throwing himself into a mark, Spargo making a goal come out of nowhere. What does that say about the maturity of your team?
A: That's a hallmark of our game. I think that's what our supporters are loving. We really want to get our supporters in behind it. They're loving the tough stuff, the ability to chase-down tackle, the ability to win one-on-one, the contest. We value that highly. Contest is king in this game. It's something we want to be strong at. We were at our best tonight. Not quite at our best, but it was still to a really high level.
Sydney coach John Longmire spoke to the media after the game…
A: I thought it was a high pressure game, probably the conditions lent itself to that. If you look at the pressure factors from both teams, they were pretty much through the roof, there was a lot of pressure on, really slippery, wet conditions. We ended up – what did we win, three quarters and
the inside-50 count. They were more efficient and effective when they were going forward than we were. And they probably out-scrambled us in the second quarter. So they're probably the two areas in my immediate thoughts, yeah.
Q: You didn't get the win obviously but do you take some positives out of pushing a side like Melbourne that far?
A: Yeah. It's – ultimately we're here to win and regardless of who we're playing, we want to get the points, but we had a crack. And if we had a bit of polish in our front half maybe we might've been able to get over the line. And I thought our boys had a real crack. They didn't at any stage stop. They kept coming and coming and coming, and if you look at the second half, we went in at half-time and they clearly had a better quarter than us but then we got going again. Got to the stage where it gave us a chance to win and we generally thought we were in and we generally thought we were in a real chance there in the end, and to their credit, they're – clearly, they're the best side at the moment. So they find a way, and at the right time, and that's what the difference was.
Q: You dominated the centre clearance tonight. What did you put that down to?
A: Yeah. I mean, it was – you know, the centre bounce numbers and inside 50s from centre bounces were, you know, were really good for us. We were able to get the ball in our front half, and the boys did a good job in there. You're against an elite midfield. From that part of the game, they did a good job, there was probably a few things involved, but they just did a good job.
Q: John, I know you're not someone to make excuses at all but can you talk us through the events of the week [disrupted preparations due to COVID protocols] and what impact that potentially had on the coaching preparations and strategy?
A: No, I don't think it had any impact. I mean it threw us for about 48 hours, but it didn't impact the result. In the end, we came up with a contingency plan, and we had our head of welfare as a line coach and we had our reserves coach that also works in our academy as a line coach and we had about four players line up to work on the bench, and my two sons were going to come down and run the interchange so we had the contingency plans ready to go. But things changed. We did our meetings. We hooked up on Zoom and did our meetings and did it – I mean, in the end, you're faced with all sorts of challenges in this game and we looked at it as an opportunity. We said to our players, it's an opportunity. We have the three pretty key coaches at home. They're very important because they're good at what they do. But we'll get on with it. And it didn't interrupt our boys too much.
Q: In all honesty, when you think about a week, so many hours to a game, did it sacrifice any of your planning? Did you not spend as much time doing anything because you had to devote it to how we're going to do this on Zoom…
A: It was a late night Thursday night. Our footy manager didn't get any sleep. I was on the phone to the other coaches about midnight. We didn't get much sleep, but you get it done. I mean, in the end, you've got to work through it. To keep the game going, you have to get on with the job. And dealing
with curve balls is just part of the business. That was a unique curve ball. Didn't expect it to come. Probably the only time I haven't been first for lunch and it saved me. So, yeah, we got it done.
Q: What did you make of Buddy's battle with Steven May tonight?
A: I thought May was pretty good. It was pretty tough conditions to come back in. May is a very good player. They were able to get some results out of their key forwards and Lance just comes back and he will be better for the run.
They're happy chappies at Demonland
Port Adelaide with a not-so-subtle dig at Collingwood and the powers that be who prevented them from wearing their traditional Magpies jumper tonight.
Steven May was sensational again tonight in defence for Melbourne and he spoke to Channel Seven after the game…
Q: You played on one of the all-time greats of the game, 950 goals. Lance Franklin. You kept him goalless. He's had five or six touches. That's a pretty good night.
A: Yeah, he's certainly a guy who gives me, you know, makes me nervous the night before. I've played on him since I first came in the league. We've had some pretty good battles. I was actually happy to see him back, he's such an excitement machine. He took a couple of good marks on me early. I thought I'm in for a big night here.
Q: You were involved in quite a few one-on-ones tonight, yet you were able to halve all those contests. When you go up against someone like Lance what is your main focus?
A: I have to get low and push him on the body line. He's such a big man, he gets you onto the ball and protects the drop zone. I tried to drive him under with my legs, and thankfully a couple of guys helped me. He's certainly a superstar.
Q: You said you were nervous coming into tonight, are you more nervous when there's Buddy on the ground and you know you've got Buddy for the night?
A: Yeah, bloody oath. The night before, the thing with Buddy, it got to three-quarter time, right. I'm thinking, I'm doing my job here, hang on, he only needs five minutes and he can do whatever.
Q: You can't lapse one second, can you?
A: No. He's one of those guys, 'Hibbo' (Michael Hibberd) had the job on Papley, the same. You give them a couple of metres of space and bang.
Q: We were just looking through the last quarter. He was talking to you, I think there's a few points in it, a few minutes to go. Can you remember what he said to you? It looked like you were thinking, 'I can't believe you're talking to me at this stage'.
A: I was more – he had a lead-up on me and I said, 'You were on there, they should've hit you'.
Q: Forwards always take that well!
A: He went straight back to the midfielders and let 'em know. Angry Buddy is scary. So if I can try and talk him up and keep him up and about on his toes, I can come from behind like that.
Q: What about your back six? You have only given up five marks inside 50 again tonight. It's been a real trend of your play this year. You're always there to support each other. You have a tightknit group down there.
A: I'm loving every game with that back group. Harry Petty replaced 'Tommo' (Adam Tomlinson) tonight. He will only get better. Jakey Lever – a lot has been spoken about our relationship but we're getting better as we're starting to understand. Then the smalls, I don't think they get enough credit, but Christian Salem, wins one-on-ones. Hunt. Rivers. We have a great group coming through.
Q: You all complement each other. You all play a different role but it comes beautifully together.
A: Yep.
Q: Watching the captain's run on Friday it looks like a really happy club. It was great to see Adam Tomlinson on crutches there supporting.
A: Yeah. He was even beeping his horn in the race.
Q: Was that him?
A: Yeah.
Q: We were wondering. Maxy waved.
A: That was Tommo, yeah. He's still been around. He probably should be at home resting but he came to the meeting before the game and came to the captain's run. It's obviously shattering for him, but I've never seen a guy with such bad news with a big smile on his face, just happy for us. It speaks volumes about his character.
P.Adelaide 2.4, 4.6, 9.10, 12.15 (87)
Adelaide 1.0, 1.4, 4.5, 5.8 (38)
GOALS
P.Adelaide: Marshall 3, Dixon 2, Georgiades 2, Drew, Farrell, Fantasia, Motlop, Rozee
Adelaide: Thilthorpe 2, Rowe, Fogarty, Sloane
DISPOSALS
P.Adelaide: Boak 28, Amon 27, Gray 26, Byrne-Jones 24, Wines 24, Rozee 23
Adelaide: Laird 36, Seedsman 29
The Power smashed the Crows in disposals 417-322, marks 84-46 and scoring shots 27-13 and they also won the clearances 44-38, tackles 83-77, contested possessions 170-159, inside 50s 63-49 and hitouts 42-32.
It was a dominant display, and the final margin probably flattered Adelaide in the end.